Afghanistan, while often only thought of as a politically volatile place, is also home to some of the most intriguing wildlife to be found on planet Earth. From the lowly mountain mole to the majestic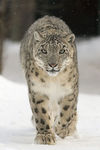 snow leopard
, from the elegant gazelle to the inquisitive

Rhesus monkey
, Afghanistan is host to many kinds of animals, both predator and prey.
To the common Westerner, to imagine what kinds of animals occupy Afghanistan might be a difficult task. Afterall, isn't the place simply one big desert? The answer is no. Afghanistan has a wide range of terrain, from snow-capped mountains to river valleys. The desert, while still a relatively large part, isn't all that this place has to offer.
Since it is home to such different kinds of terrain, it is naturally home to different kinds of animals. Rodents of all kinds inhabit both the urban and rural developments. The Tamarisk gerbil, three-toed dwarf gerboa, and

desert hedgehog
can often be encountered in the wild. Familiar species like rats, squirrels, badgers, and even bears can also be found here, although in more of an Old World variation.
Some species are so special as to be unique to Afghanistan. One such creature is the Paghman Mountain Salamander, named for the tributary system which it inhabits. Another such animal is the Afghan Snowfinch, a beautiful member of the sparrow family which is endemic to the area. One final creature, although deriving from unknown origins, gets its name from the region: the Afghan hound. This sporting dog is commonly used by Afghan shepherds as protection and enforcement.
As one might see, the terrain and fauna of Afghanistan is rich and diversified, a mark of a beautiful biological realm.