Angola has an extremely diverse animal population. Unfortunately, the lengthy civil war has taken a toll its animal population. Land mines, shootings and explosions have unintentionally killed and hurt many of the native animals. A number of animals have also been killed by poachers and starving natives trying to feed their families. The country is making an effort to repopulate the area with its native animals and hoping to reduce the number of endangered species in the country.
Some of the more prominent animals of Angola are listed here: antelope, buffalo, black-footed cat, bat-eared fox, brown hyena,

Cape fox
, Cape fur seal,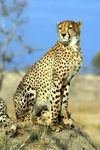 cheetah
,
giraffe
,
hippopotamus
,

impala
,
African golden cat
,
black rhinoceros
,

aardwolf
, elephant, eland,
African manatee
,
banded mongoose
, lion,
springbok
,
gemsbok
, merkat,
spotted hyena
, southern redbuck, topi,
sitatunga
,
African civet
, oribi, lechive, leopard, warthog, wilderbeest, water buck,
caracal
,
yellow mongoose
, zebra, kudu,
African striped weasel
,
blue duiker
,
serval
, bushback, Cape hyrax, and the giant sable antelope. Many of these are endangered species and some are extremely close to becoming endangered. The country has made several attempts to preserve the ones they can and make conditions right for the surviving species to mate and repopulate the area.
Thousands of acres of land surrounding the Kwanza river was once home to a seemingly endless supply of wild animals. The innocent animals have become a casualty of war. The effort to revive the number of animals in the area has come none to soon. Many of these animals could become extinct. The country has accepted help from other nations and organizations to bring the animals back to the area. There is great hope that the efforts will be successful and that the world's endangered species will begin to decline.