Custom Search
Burma

The Nation of Burma is presently known as Myanmar, and is the westernmost country in Southeast Asia. The renaming of the country remains in dispute, with some countries recognizing it and others still referring to the country as Burma. The capital city of Rangoon is now known as Yangon. The strategic location of Burma, bordering India, Bangladesh, the Tibet and Yunnan areas of China, Thailand, and Laos, will always keep the nation in the news. During World War II the country played a key role in blocking Japanese expansion and supplying allied and Chinese forces. Since the military coup of 1962, virtually all aspects of life have been controlled by the government, many political prisoners remain in jail, and sporadic clashes with ethnic groups continue. In 2010 a civilian government was formed but changes remain to be seen.
5 Facts You Might Not Know
1
With a population of over 58 million, Burma is one of the most populous countries in Asia with a mix of several ethnic groups. Most people live within the fertile Irrawaddy River Valley, where plenty of rice is cultivated.
2
Burma has 1200 miles of uninterrupted coastline, extending from the Andaman Sea on the south to the Bay of Bengal in the southwest.
3
Burma is among the poorest nations in the world, with a minimal health care system and no economic progress since a military coup in 1962. Burma has one of the worst human rights records in the world, where human trafficking, child labor, and lack of basic freedoms are common. The nation now remains far behind the living standards enjoyed in other Asian nations.
4
British colonial rule lasted from 1889 to Burmese independence in 1948, transforming and modernizing the social fabric of this feudal country.
5
With an elevation of over 19 thousand feet, Hkakabo Razi is the highest peak in Burma.
The capital of Burma
is Yangon. The
currency of Myanmar
is the Kyat(MMK)
Myanmar belongs to the
Asian continent
More countries starting with B
Airports in Burma
Mingaladon
,
Mandalay
,
Akyab
, and
Yangon
Leaders of Burma
Map of Burma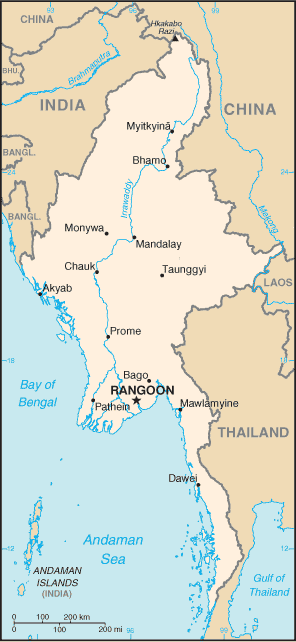 Population
47,373,958
Animals native to Burma / which animals live in Burma?
Click here for all
Animals in Burma
Airlines in Burma
Click here for all
Airlines in Burma
Coordinates (in Latitude & Longitude) of Burma
22 00 N, 98 00 E
Kilometers of coastline
1,930 kilometers
Square kilometers of land
657,740 square kilometers
Square kilometers of water
20,760 square kilometers
Birth rate
17.48 / 1000 population
Death rate
9.33 / 1000 population
Irrigated land
18,700 sq km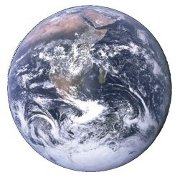 Information about Burma is brought to you by
"List of countries of the world"
, your first stop in discovering all countries of the world.
Besides demographic information, geological information about Burma, also the flag of Burma and a map is displayed. View also countries of the world ordered by:
Privacy policy