Benin, is located in western Africa on the Gulf of Guinea. Benin has amazing creatures in its rainforest, each animal unique in its own habitats. Some these types of animals that live in Benin are elephants, buffalo, antelope, panthers, monkeys, crocodiles, wild ducks baboons, buffalo,

caracal
,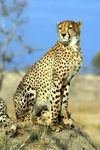 cheetahs
, hippopotamuses, leopards, lions,

serval
, West
African elephant
, hippopotamuses, and buffalo. Some of these animals are rare species are rare to West Africa, these animals are protected in two National Parks. The animals are becoming rare species do to poaching and loss of habitat. Some of the unique animals that live in this country are

Nile crocodile
, African elephant, vervet, patas,
mona monkeys
, Python sebae,
bushbuck
, red-flanked duiker, yellow-backed duiker, and kobs.
The there are several different types of Habitats that occupy Benin. The habitats in Benin are semi-deciduous, dry, and open forest, and woodland savanna. All of these habitats are located next to rivers, streams that are either close to the water flow or not at all. In west National Park it is either semi-arid to semi-humid in a Sudanese wooded savanna, despite the humidity there are 70 diurnal mammals located in these unique National Forest. Pendjari National Park is known as a Ramsar site and is important to the wetland importance. Pendjari National Park is covered with Hills and cliffs, that provides an amazing backdrop, and remains one of the most unique National Parks in West Africa. The Riparian forest is one of the conservation sites in West Africa and needs special care, that also has different locations throughout the country of Benin. The Riparian forests is dependent on flood waters, many different species of animals relay on these particular forest to survive. Riparian forests are typically open-forests that are semi-deciduous and dry. Benin animals and habitats are unique in so many different ways each one effecting the other in some way, that makes them so wonderful and unique.