Chad is home to an abundance of different animals. Elephants, monkeys, warthogs, and many, many more call Chad home. There are 134 species of mammals'17 of which are becoming endangered'and 588 species of birds in residence.
One of Chad's most prominent mammals is the

Red River Hog
, or Bush Pig, along with the African Bush Elephant, the Cape Hydrax, and a type of old-world monkey called the Mantled

Guereza
. While Chad is primarily composed of deserts in the north, to the South there are fertile grasslands which provide a suitable habitat for grazing animals such as buffalo, rhinoceroses,
giraffes
, and antelopes to dwell in. Due to the abundance of these creatures, lions, leopards,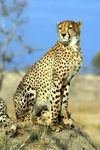 cheetahs
, and hyenas are also attracted to the area and compose a large portion of Chad mammals as well. There are also many species of rodents and bats like old-world fruit bats,

capybaras
, squirrels, and rats.
Lake Chad, located in the far west of Chad, is the largest wetland in the country and within it holds 85 species of fish. Only 25 of these, however, are exclusive to Chad. The floating islands in the lake are also the home to
hippopotamus
and crocodile'though both of these are declining in numbers'and many different types of waterfowl and migratory birds
The birds that live in Chad range from the flightless ostriches to the wetland dwelling herons. Predatory hawks, falcons and eagles roam the sky. Cuckoos and owls are also quite abundant. Pelicans, cormorants, egrets, and cranes are some of the other birds that live near the water. For the terrestrial types, there are pheasants, partridges, quail, and guinea fowl.
As far as reptiles go, there are many snakes and lizards, such as the endemic Mocquard's Writhing Skink. These animals tend to stay in the deserts of the north.