Custom Search
Chile

If you are planning to visit the country of Chile, you need to know a few important factors about the country. This is going to make it easier to travel around the country. The South American country is a rather popular tourist destination, for individuals all over the world, so as long as you have the basic understandings of the country, you should be fine while visiting.
5 Facts You Might Not Know
1
East Island is part of Chile, despite being over 2,000 miles off the coast. This island is one of the great mysteries of the world, as nobody really knows how the settlers came to be on the island (there isn't any other body of land near the island), and nobody knows where they all went. All that is left are the famous Moai statues and some bird man cult carvings.
2
The Real Robinson Crusoe crashed landed here. The smaller Robinson Crusoe island, is located just west of Santiago, and is the actual maroon site of the legendary individual. There is a large sculpture designed after his likeness in the middle of the island, and a few other interesting bits of information here. The island isn't a very large tourist draw, so it should be interesting to go and visit, while in the country of Chile.
3
The public transportation system in Santiago is rather lacking. There is a public train that moves about areas of the city, but it shuts down while business hours are not running. This means, if you have a dinner date, or someplace to arrive to early in the morning, you are out of luck, as it does not run. You are able to take a taxi instead, but only use a metered taxi. Negotiating taxi rates almost never results in a cheaper drive.
4
Chile is one of the safest countries in all of South America. It also has one of the best economically run plans in the country too.
5
Chile is an excellent stopping point, if you plan on visiting Antarctica. The southern most tip is close enough for short range plans and boats to depart, allowing you to see the worlds most southern continent.
The capital of Chile
is Santiago. The
currency of Chile
is the Chilean Peso(CLP) and the
Unidades de fomento
(CLF).
Flag of Chile
Chile belongs to the
South American continent
More countries starting with C
Airports in Chile
Tres Marías
,
Puyehue
,
Pilmaiquén
,
Pampa Alegre
,
Nochaco
,
Neltume
,
Nehuin
,
Michilla
,
Los Códores
,
Los Cerrillos
,
Aeródromo Lo Castillo
,
La Unión
,
La Porfiada
,
Aeródromo El Buitre
,
El Belloto
,
Coique
,
Cerro Sombrero
,
Aeropuerto Cerro Moreno
,
Aeropuerto Cerrillos
,
Aeródromo Catalina
,
Aeródromo Bernardo O'Higgins
,
Aeropuerto Arturo Merino Benítez
,
Aeropuerto Mataveri
,
Arica
,
Balmaceda
,
Chile Chico
,
Punta Arenas
,
Coyhaique Teniente Vidal
,
Iquique - Diego Arac
,
Quintero Santiago
,
Copiapo
,
Cochrane
,
Curico
,
Concepcion
,
Vallenar
,
Chanaral
,
La Serena
,
Temuco
,
Valdivia
,
Puerto Montt
,
Pupelde
,
Aerodromo Las Marias
, and
Carrier Sur
Leaders of Chile
List of oil fields in Chile
(4)
Map of Chile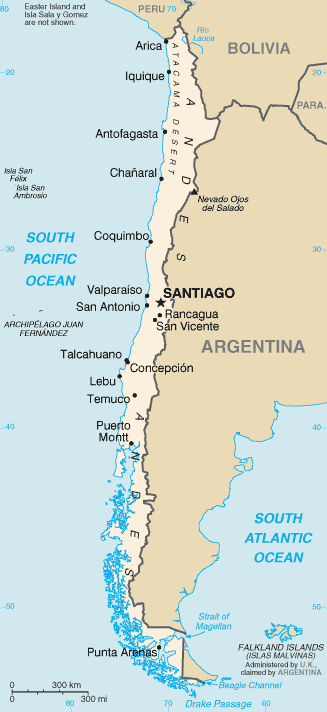 Population
16,284,741
Spanish
Animals native to Chile / which animals live in Chile?
Click here for all
Animals in Chile
Airlines in Chile
Click here for all
Airlines in Chile
Coordinates (in Latitude & Longitude) of Chile
30 00 S, 71 00 W
Kilometers of coastline
6,435 kilometers
Square kilometers of land
748,800 square kilometers
Square kilometers of water
8,150 square kilometers
Birth rate
15.03 / 1000 population
Death rate
5.87 / 1000 population
Irrigated land
19,000 sq km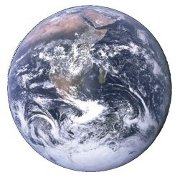 Information about Chile is brought to you by
"List of countries of the world"
, your first stop in discovering all countries of the world.
Besides demographic information, geological information about Chile, also the flag of Chile and a map is displayed. View also countries of the world ordered by:
Privacy policy