Custom Search
Colombia

Colombia, the amazing land of green, is a tropical haven that is close to the equator. People know of its wonderful coffee, the exotic Amazon that courses through its lands, and of its amazing heritage. There are many best kept secrets that should be enjoyed by all.
5 Facts You Might Not Know
1
Cartagena is a beautiful city of Colombia. Dating back to colonial times, it is rich in architecture and history. The Castillo de San Felipe de Barajas, a castle that dates back to 1639 is an awesome feat and one of the grandest of Spanish fortresses.
2
Colombia has beaches without rival and has a sole privilege of the South American countries. Residents and tourists can experience the sun and the sand on the Atlantic coast or travel to the Pacific while never leaving the bounds of Colombia. Travel only a short distance away and discover Caribbean islands that are a hot spot for Colombians. San Andres is a prime example, a lovely little escape where travelers can enjoy nightclubs, shops with work from local artisans, restaurants with a distinct South American flavor, and above all else--the balmy beaches.
3
A treasure is tucked within the Zipiquara Mountain. An abandoned salt mine has been transformed into a place of pilgrimage for any devoted Christian. It now has become a Catholic cathedral, artfully constructed from the remains of the salt mine. Visitors will have an experience unlike all others.
4
Colombia is a land of diversity. It contains the Andes Mountains, the jungles of the Amazon, and the balmy beaches. People can explore nature with wonders of fauna and flora or take to major cities such as Bogota and Medellin. Travel off the beaten path into small villages and go back in time to when life was simpler. One can sample a bit of everything in the lovely land of Colombia.
5
Colombia is a major source of riches for the world, beyond their spectacular coffee. The quality of their emeralds is hard to surpass. In addition, silver, gold, and platinum are also in abundance. Coal is also one of their most valuable resources.
The capital of Colombia
is Bogotá. The
currency of Colombia
is the Colombian Peso(COP) and the
Unidad de Valor Real
(COU).
Flag of Colombia
Colombia belongs to the
South American continent
More countries starting with C
Airports in Colombia
San José del Guaviare
,
Aeropuerto Internacional de Crespo
,
Aeropuerto de Girardot
,
Aeropuerto El Banco
,
Aeropuerto General Vargas Santos
,
Ernesto Cortissoz
,
Aeropuerto Los Colonizadores
,
Aeropuerto Arsenio Valderrama
,
Aeropuerto Santiago Pérez Quiróz
,
El Yopal
,
Armenia - El Eden
,
Puerto Asis
,
Bucaramanga - Palonegro
,
Bogota - Eldorado
,
Buenaventura
,
Cucuta - Camilo Daza
,
Cali - Alfonso Bonillaaragon
,
Barrancabermeja - Yariguies
,
Ibague - Perales
,
Apartado - Los Cedros
,
Leticia - Vasquez Cobo
,
Medellin - Olaya Herrera
,
Monteria - Los Garzones
,
Mitu
,
Neiva - Benito Salas
,
Puerto Carreno - A. Guauquea
,
Pereira - Matecana
,
Popayan - Guillermo
,
Pasto - Antonio Narin
,
Providencia Isla - El Embrujo
,
Rionegro - J. M. Cordova
,
Riohacha - Almirante Padilla
,
Santa Marta - Simon Bolivar
,
San Andres Isla - Sesquicentenario
,
Quibdo - El Carano
,
Valledupar - Alfonso Lopez
,
Villavicencio - Vanguardia
,
Ipiales - San Luis
,
Aeropuerto Barranquillita
,
Aeropuerto el Dorado
,
Centro Aéreo de Combate No. Seis Tres Esquinas
,
Puerto Rico
,
Aeropuerto Eduardo Falla Solano
,
El Retiro
,
Jorge Gonzáles Torres
,
Aeropuerto Internacional El Dorado
, and
Aeropuerto Guaymaral
Leaders of Colombia
List of oil fields in Colombia
(1)
Map of Colombia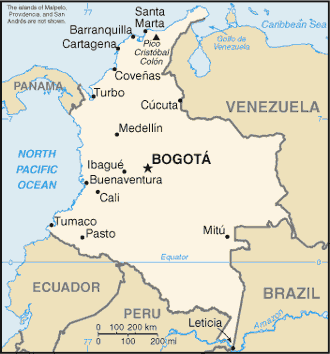 Population
44,379,598
Languages spoken in Colombia
Spanish
Animals native to Colombia / which animals live in Colombia?
Click here for all
Animals in Colombia
Airlines in Colombia
Click here for all
Airlines in Colombia
Coordinates (in Latitude & Longitude) of Colombia
4 00 N, 72 00 W
Kilometers of coastline
3,208 kilometers
Square kilometers of land
1,038,700 square kilometers
Square kilometers of water
100,210 square kilometers
Birth rate
20.16 / 1000 population
Death rate
5.54 / 1000 population
Irrigated land
9,000 sq km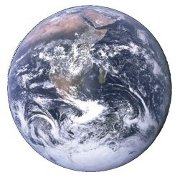 Information about Colombia is brought to you by
"List of countries of the world"
, your first stop in discovering all countries of the world.
Besides demographic information, geological information about Colombia, also the flag of Colombia and a map is displayed. View also countries of the world ordered by:
Privacy policy