Custom Search
Costa Rica

Costa Rica gained its independence from Spain on Sept. 15, 1821. It has developed into a key ecotourism destination, attracting tourists to its biodiversity, plethora of outdoor activities and laid-back beachfront ambiance. There are many ecotours taking visitors to enjoy national parks, rainforests and nature preserves. Those seeking night life can find it in the capital, San Jose.
5 Facts You Might Not Know
1
Costa Rica has beach lines on two coasts. Located in Central America, Costa Rica is bordered by the Caribbean Sea on one side and the Pacific Ocean on the other. It has three islands that are popular destinations: Tortuga (turtle), Cano and Cocos. Each is accessible to visitors.
2
Lying within the Pacific Ring of Fire, it is a land of volcanoes, with more than 100 volcanic cones. Four are near San Jose. The most active volcano in the country, Arenal, erupted in 2010. Over the years, volcanic ash from eruptions created particularly fertile soil, nurturing much of the plant life that grows in the country today.
3
There are plenty of activities to do inland, including hiking to the country's highest point, Cerro Chirripo, in Chirripo National Park. Those in good physical condition can tackle the 11-mile climb, staying in huts along the way. The tropical rainforest includes giant 165-foot oak trees and many streams. Making it to the top brings rewarding views of both the Caribbean Sea and the Pacific Ocean.
4
Costa Rica's rich wildlife includes the Yiguirro, a beige robin that is the national bird. Costa Ricans are very familiar with the Yiguirro, since it often lives in local neighborhoods, and they recognize its pretty song.
5
Costa Rica has been called the 'Silicon Valley of Latin America.' It is a major exporter of microprocessors and other electronics. International companies such as Intel, GE and Microsoft have production facilities in Costa Rica.
The capital of Costa Rica
is San José. The
currency of Costa Rica
is the Costa Rican Colon(CRC)
Flag of Costa Rica
Costa Rica belongs to the
North American continent
More countries starting with C
Airports in Costa Rica
Chacarita
,
Liberia
,
Puerto Limon
,
Juan Santamaria
,
Palmar Sur
,
Tobias Bolanos International
, and
Juan Santamaria International Airport
Leaders of Costa Rica
Map of Costa Rica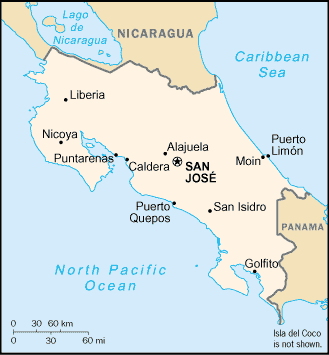 Population
4,133,884
Languages spoken in Costa Rica
Spanish
Animals native to Costa Rica / which animals live in Costa Rica?
Click here for all
Animals in Costa Rica
Airlines in Costa Rica
Click here for all
Airlines in Costa Rica
Coordinates (in Latitude & Longitude) of Costa Rica
10 00 N, 84 00 W
Kilometers of coastline
1,290 kilometers
Square kilometers of land
50,660 square kilometers
Square kilometers of water
440 square kilometers
Birth rate
18.02 / 1000 population
Death rate
4.39 / 1000 population
Irrigated land
1,080 sq km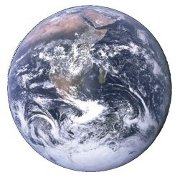 Information about Costa Rica is brought to you by
"List of countries of the world"
, your first stop in discovering all countries of the world.
Besides demographic information, geological information about Costa Rica, also the flag of Costa Rica and a map is displayed. View also countries of the world ordered by:
Privacy policy