The Central African Republic is located in central Africa and covers mostly savannah (treeless expanses of open grassland) in the north, and dense Congo jungle to the south along the Ubangi and Sangha Rivers. A wide range of vegetation can be found within these different zones such as scrubby drought resistant shrubs and trees to the larger, more leafy forests in the Congo. This difference in vegetative zones gives the Republic a much larger range of animal species to fill the two different habitats.
The Central African Republic is home to many different species from the beautiful blue headed doves to the sleek and slender

serval
. In the savannah you can find lions,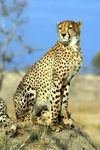 cheetahs
, leopards, baboons, antelope, buffalo, and other species of insects, amphibians and reptiles. In the dense Congo jungle you can find the smaller forest elephants,
gorillas
,
chimpanzees
, leopards, and other primates. Located in the rivers you cannot forget the crocodiles, hippos and large variety of fish species.
A special population of "Bili" apes are also established within the Congo region; this particular troop of chimps are larger then their cousins and also build their nests on the ground instead of in the trees. This behavior is unusual as most chimps are afraid of larger predators, but the Bili chimps have been seeing feasting on a leopard carcass. No big cat hunting has been observed however, so they may have scavenged the cat.
The Black Rhino also inhabits the area, one of the last niches this rare species can be found. Along with the rhino several other species are endangered such as the
African Elephant
,
African Golden Cat
, African Lion, African
Gray Parrot
, Apa, Bongo, Cheetah, Chimpanzee and many other species. Endangered plants can also be found in the area such as Neoschumannia kamerunensis and Nesogordonia papaverifera.
The Central African Republic homes many different species, endangered and none alike. Its rich jungles and open plains are home to many different critters, all of which need to be protected for future generations.