Custom Search
Dominica

Dominica, not to be confused with the Dominican Republic, is a beautiful Caribbean island famed for its pristine natural beauty. Protected by an extensive park system, this island is the perfect destination for anyone looking to appreciate Earth's beauty. The island is one of the safest in the Caribbean region and is perfect for older tourists or anyone else who is looking to bypass the usual Spring Break crowd.
5 Facts You Might Not Know
1
Due to their fierce resistance against colonization, a large population of indigenous Carib Indians still lives on Dominica. Over 3,000 Caribs call the island their home, the largest pre-Colombian population in the Caribbean. Although the Caribs are well-integrated with the rest of the island, visitors can still view traditional housing and purchase hand-made crafts, including Carib baskets.
2
The Morne Trois Pitons National Park is a World Heritage Site filled with hiking, mountains, and lakes. Although the terrain is arduous and not recommended for beginners, anyone who can manage the hike will be rewarded by the breathtaking view when they reach the top of the dormant volcanoes that make up the mountain range.
3
Government policies make traveling to Dominica easy. Automatic visas are granted for any travelers from the European Union, Canada, or the United States. Tourists can enter by plane, boat, or cruise ship. English is the official language and almost all islanders speak it fluently.
4
Dominica is considered very safe by the U.S. State Department. Petty crimes occasionally happen in busy tourist areas, but serious crime is unknown on the island. Additionally, no poisonous snakes or insects live on Dominica, and the tap water is safe to drink.
5
Whales and dolphins from many species can be frequently found around Dominica's shoreline. A pod of sperm whales lives near the coast, and local guides know how to find them, ensuring that a whale-watching cruise will be fruitful. Scuba diving and fishing are also available year-round.
The capital of Dominica
is Roseau. The
currency of Dominica
is the East Caribbean Dollar(XCD)
Flag of Dominica
Dominica belongs to the
North American continent
More countries starting with D
Airports in Dominica
Canefield Airport
,
Canefield Airport
, and
Melville Hall Airport
Leaders of Dominica
Map of Dominica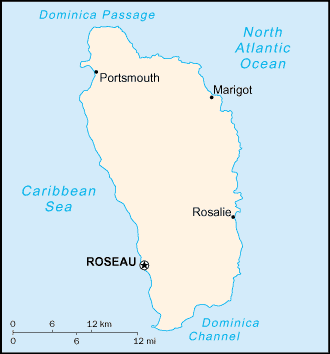 Population
72,386
Languages spoken in Dominica
English
Animals native to Dominica / which animals live in Dominica?
Click here for all
Animals in Dominica
Coordinates (in Latitude & Longitude) of Dominica
15 25 N, 61 20 W
Kilometers of coastline
148 kilometers
Square kilometers of land
754 square kilometers
Square kilometers of water
0 square kilometers
Birth rate
15.75 / 1000 population
Death rate
8.44 / 1000 population
Irrigated land
NA sq km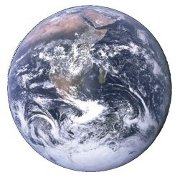 Information about Dominica is brought to you by
"List of countries of the world"
, your first stop in discovering all countries of the world.
Besides demographic information, geological information about Dominica, also the flag of Dominica and a map is displayed. View also countries of the world ordered by:
Privacy policy