Custom Search
Dominican Republic

Diverse topography graces the Dominican Republic, transitioning from rain forest to desert land complete with cactus. Situated on the edge of the earth's tropical climate line, this large island benefits from year around mild weather. Settled by the Spaniards who brought along their African slaves, this land is inhabited mostly by descendants of the two groups. The Dominican Republic occupies two-thirds of the island named Hispaniola, with the other one-third being occupied by Haiti.
5 Facts You Might Not Know
1
The world's biggest open-pit gold mine is located here, and together with silver mining constitutes the nation's biggest economic factor. However, the fertile soil found on much of the island helps crops to thrive, such as sugarcane, coffee, tobacco, bananas, rice and many other food commodities.
2
Discovered by Christopher Columbus in 1492, the island of Hispaniola was originally home to an unknown race of Indians known as Tainos. These indigenous people had lived here since 800 A.D., but were wiped out as a race in a matter of only 50 years. This was due to violence from the Spaniards who came in conquest and to claim the island as their own.
3
Almost 800 miles of coastline circles the island, with much of it composed of picture-perfect tropical beaches. Even though the white, sandy shoreline with every shade of crystal-clear, blue water beckon tourists to visit, most vacationers head first for the more well-known islands in the Caribbean.
4
By air, the Dominican Republic is only three hours away from New York, and just under two hours away from Miami. Santo Domingo, which is the oldest city in the New World - otherwise known as the Americas, has two international airports.
5
The population of the Dominican Republic is very near ten million people, and by area it is slightly more than double the size of New Hampshire, or 18,000 square miles. In contrast, New York city has a population of almost nine million people, with an area of 305 square miles.
The capital of Dominican Republic
is Santo Domingo. The
currency of Dominican Republic
is the Dominican Peso(DOP)
Flag of Dominican Republic
Dominican Republic belongs to the
North American continent
More countries starting with D
Airports in Dominican Republic
Aeropuerto Internacional Punta Cana
,
Aeropuerto Internacional La Unión
,
Aeropuerto Internacional de Las Américas
,
La Romana
,
Cibao International
,
Barahona
,
Arroyp Barril Internaional Airport
, and
Samaná El Catey International Airport
Leaders of Dominican Republic
Map of Dominican Republic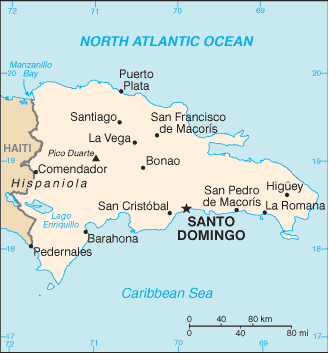 Population
9,365,818
Languages spoken in Dominican Republic
Spanish
Animals native to Dominican Republic / which animals live in Dominican Republic?
Click here for all
Animals in Dominican Republic
Airlines in Dominican Republic
Click here for all
Airlines in Dominican Republic
Coordinates (in Latitude & Longitude) of Dominican Republic
19 00 N, 70 40 W
Kilometers of coastline
1,288 kilometers
Square kilometers of land
48,380 square kilometers
Square kilometers of water
350 square kilometers
Birth rate
22.91 / 1000 population
Death rate
5.32 / 1000 population
Irrigated land
2,750 sq km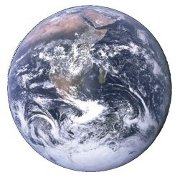 Information about Dominican Republic is brought to you by
"List of countries of the world"
, your first stop in discovering all countries of the world.
Besides demographic information, geological information about Dominican Republic, also the flag of Dominican Republic and a map is displayed. View also countries of the world ordered by:
Privacy policy