Custom Search
Ecuador

Ecuador is a small country located on the equator on the northwestern side of South America. It is bordered by the Pacific Ocean on the west, by Columbia on the north and Peru on the south side. Here are 5 things you might not know about Ecuador.
5 Facts You Might Not Know
1
The Galapagos Islands are a group of 18 volcanic islands in the Pacific Ocean that belong to the country of Ecuador. They make up the country's very first national park. Because of the abundance of different types of wildlife, Charles Darwin chose one of these islands as the place to investigate his theory of evolution. The island is now named after him.
2
Ecuador is known for its numerous kinds of potatoes and exotic fruits. Guinea pig is considered a great delicacy throughout the country. Visitors will encounter special regional dishes and delicacies as they travel throughout Ecuador.
3
The most popular tourist attraction is the outdoor Otavalo Craft Market located 66 miles north of Quito. Merchants begin setting up their stands at 5 a.m. and by 9 a.m. the market is in full swing. Visitors encounter a large variety of animals, produce and crafts that may be purchased.
4
Loja is the name of the capital city of one of Ecuador's regions. It was originally built in a valley, but was later destroyed by an earthquake. When it was rebuilt it was moved to the uplands because of the constant problem the inhabitants faced with malaria in the lower elevation.
5
Ecuador was actually the first South American country to have a woman president. After the country fired one of their presidents, Rosalia Arteaga, the vice president took over as president. She may actually be the president with the shortest tenure in the world because she was only president for one day.
The capital of Ecuador
is Quito. The
currency of Ecuador
is the US Dollar(USD)
Flag of Ecuador
Ecuador belongs to the
South American continent
More countries starting with E
Airports in Ecuador
Las Pampas
,
J.M. Velasco Ibarra
,
Ambato - Chachoan
,
Bahia De Caraquez
,
Cuenca - Mariscal Lamar
,
Esmeraldas-Tachina
,
Guayaquil - Simon Bolivar
,
Ibarra - Atahualpa
,
Catamayo - Camilo Ponce Enriquez
,
Latacunga
,
Machala - General M. Serrano
,
Manta
,
Pastaza - Rio Amazonas
,
Quito - Mariscal Sucre
,
Salinas - General Ulpiano Paez
,
San Cristobal Galapagos
,
Tiputini
,
Tulcan - El Rosal
, and
Seymour
Leaders of Ecuador
List of oil fields in Ecuador
(2)
Map of Ecuador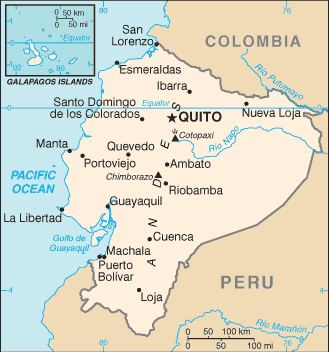 Population
13,755,680
Spanish
Animals native to Ecuador / which animals live in Ecuador?
Click here for all
Animals in Ecuador
Airlines in Ecuador
Click here for all
Airlines in Ecuador
Coordinates (in Latitude & Longitude) of Ecuador
2 00 S, 77 30 W
Kilometers of coastline
2,237 kilometers
Square kilometers of land
276,840 square kilometers
Square kilometers of water
6,720 square kilometers
Birth rate
21.91 / 1000 population
Death rate
4.21 / 1000 population
Irrigated land
8,650 sq km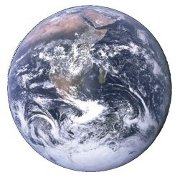 Information about Ecuador is brought to you by
"List of countries of the world"
, your first stop in discovering all countries of the world.
Besides demographic information, geological information about Ecuador, also the flag of Ecuador and a map is displayed. View also countries of the world ordered by:
Privacy policy