The Republic of Equatorial Guinea is home to a variety of wildlife, including many endangered species. Located north of the equator on Africa's west coast, the turbulent country includes islands as well as land on the continent. The recent discovery of petroleum could further threaten the animals in the country.
In addition to many of Africa's best known animals, such as elephants,
gorillas
and
chimpanzees
, Equatorial Guinea has many native species found few other places on the planet. One such animal is the Bioko Allen's Bushbaby, a type of primate with large eyes and a long bushy tail. Other primates abound, such as the drill, a relative of the baboon and closer relative of the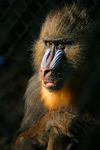 mandrill
. This endangered monkey is nomadic, and little is known about its behavior in the wild. Additionally, Pennant's red colobus, a small, slow monkey, and four types of guenons -- monkeys with long tails -- call Equatorial Guinea home.
Equatorial Guinea also has several unusual species of reptiles, including two skinks, one of which has no forelimbs and only two toes on its rear limbs. The other, a lidless skink, looks like a snake with legs. The country also has other lizards, including different geckos and snakes.
The biodiversity of Equatorial Guinea includes a variety of birds, as well as two unique species. The
Fernando Po Speirops
is a small, dark songbird found only on the island of Bioko. The Annobon White-eye, a small, olive-green bird, lives only on the nearly seven-square-mile island of Annobon.
The waters of Equatorial Guinea also offer a range of biodiversity. A type of scorpionfish,
scorpaena annobonae
, is known only because of a single specimen caught off of Annobon. The West

African manatee
also frequents the waters of the country, as it lives in the rivers along the coast. The West African manatee is the least-seen and least-studied type of manatee, and like many animals in Africa, its greatest threat is humans.
Equatorial Guinea hosts some of the most unusual, and threatened, creatures in the world. With primates, birds and reptiles found few other places, it has biodiversity worth protecting.