Custom Search
Ethiopia

Ethiopia, located in the horn of Africa, is endowed with a lot of history from being the country with one of the oldest sites of human existence to being one of two countries that were not colonized in Africa as well as being home to Haile Selassie, believed be the father of Rastafarianism, and source of the Nile. Ethiopia is, therefore, a country of discovery and adventure and some popular attractions, some famous and others less famous are listed below.
5 Facts You Might Not Know
1
The Gondar Castles in Gondar are famous over their design and decorations. These castles which are very old are still in sound condition and one can climb its stairs all the way to the top where one enjoys a breathtaking view of the surrounding and much of the city.
2
The Tisisat falls of the Blue Nile near Bahar dam create spectacular rainbows when the Nile waters thunder over the cliff and into a gorge creating an exquisite display that earns it the name 'smoking water'. The falls are about 225 kilometers from the capital city, Addis Ababa and one gets to enjoy scenic beauty on the way to the falls.
3
River Nile is known all over the world as the longest river and as the source of livelihood in Egypt. The source of the Blue Nile, which provides the most waters into the Nile, is Lake Tana in Ethiopia. Apart from being the source of the Blue Nile, Lake Tana also contains some floating islands that are home to fascinating churches and monasteries.
4
Ethiopia is also home to the Rift Valley, which spreads across several countries in East Africa. The Ethiopian Rift Valley comprises some awesome hot springs, lakes and a variety of wild animals. The water of the hot springs is valued for its therapeutic qualities.
5
Ethiopia is also home to exotic wildlife and birds. The country's wildlife reserves and national parks contain numerous species of birds, which live prolific lives due to the numerous rivers and lakes, as well as indigenous African wildlife animals like Leopards, elephants and antelopes.
The capital of Ethiopia
is Addis Ababa. The
currency of Ethiopia
is the Ethiopian Birr(ETB)
Flag of Ethiopia
Ethiopia is an African country
More countries starting with E
Airports in Ethiopia
Addis Ababa
,
Arba Minch
,
Axum
,
Bahar Dar
,
Combolcha
,
Debremarcos
,
Dire Dawa
,
Gondar
,
Gode
,
Gore
,
Harar Meda
,
Jimma
,
Kabre Dare Military
,
Awassa
,
Makale
,
Neghelli
,
Assosa - Asosa
, and
Asmara
Leaders of Ethiopia
Map of Ethiopia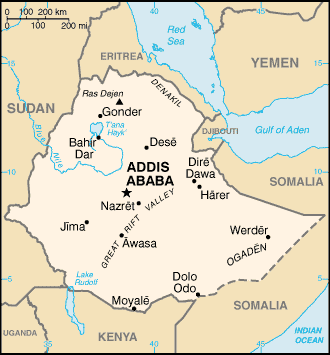 Population
76,511,887
Languages spoken in Ethiopia
Amharic
Animals native to Ethiopia / which animals live in Ethiopia?
Click here for all
Animals in Ethiopia
Airlines in Ethiopia
Click here for all
Airlines in Ethiopia
Coordinates (in Latitude & Longitude) of Ethiopia
8 00 N, 38 00 E
Kilometers of coastline
0 kilometers
Square kilometers of land
1,119,683 square kilometers
Square kilometers of water
7,444 square kilometers
Birth rate
37.39 / 1000 population
Death rate
14.67 / 1000 population
Irrigated land
2,900 sq km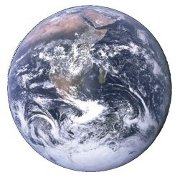 Information about Ethiopia is brought to you by
"List of countries of the world"
, your first stop in discovering all countries of the world.
Besides demographic information, geological information about Ethiopia, also the flag of Ethiopia and a map is displayed. View also countries of the world ordered by:
Privacy policy