Nearly a thousand kilometers of coastline, combined with forests, marshland, woods, marshes, savannahs, mangroves, rivers and lakes create a pristine ecosystem for the varied 190 species of animals native to Gabon. Containing the world's second largest rain forest and sprawling over 267,667 square kilometers, yet smaller than the state of Colorado, Gabon is a diverse tropical paradise located on Africa's west coast.
A day excursion through the rainforest will produce glimpses of several primates including different species of monkeys, common
chimpanzee
, western lowland
gorilla
and even the endangered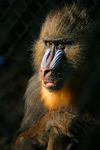 mandrill
. Gabon boasts of the world's largest concentration of drills with troupes amassing 1000 or more. Other endangered species native to Gabon includes the giant African

water shrew
and the wild dog.
The bio diverse coastline provides habitat for
humpback
whales, dolphins,
killer whales
and
leatherback turtles
. In December the leatherbacks weighing up to 800 kg, begin their beach ascent laying as many as 100 eggs each. Conversely, enjoying the shallow calm waters, the West
African manatee
, primarily a vegetarian, is found amongst dense sea grasses of the mangrove creeks.
Further up in papyrus laden swamps with only nostrils visible above the water's surface, the
sitatunga
can be detected avoiding crocodiles and leopards. Less threatening neighbors often sharing the same watering hole are bogo antelope and playful spotted-necked otters.
Massive stone domes surrounded by the forested Minkebe region, is inhabited by large mammals such as bongos, (the largest forest antelope),
African golden cats
,
African elephants
and
red river hogs
. Additionally smaller species such as the sun-tailed monkey, the pygmy squirrel and several shrew varieties including the endangered African water shrew, can be found under the dense forest canopy.
A virtual Garden of Eden with breathtaking panoramas where wetlands, savannas, forests, lagoons and ocean meet to provide opportunity to observe animals native to Gabon is an extraordinary adventure.