Ghana, a country located in West Africa, is situated on the Gulf of Guinea'just above the equator. Ghana's geographical location and tropical climate afford it a rich environment made up of both low and high plains, a forested plateau region, mountain ranges, and rivers. These regions lend themselves as thriving habitats for the animals that reside within them.
The list of animals native to Ghana is a long one that includes mammals, reptiles, amphibians, aquatic and marine animals, birds, insects, and spiders. So far 504 species of fish, 728 of birds, 225 of mammals, and 221 of amphibians and reptiles have been recorded in the country of Ghana. These include, of course, the antelope, baboons, buffalo, cobras, gazelle, hippos, hyenas, lions, leopards, jackals, and pythons for which Africa is famous'thanks in part to modern movies such as The Lion King.
Poaching, human settlement, and habitat loss brought on by deforestation, overgrazing, and periodic drought threaten Ghana's wildlife. Today, only around 33 percent of Ghana is still forested, and this number depletes by about 1.3 percent each year, which will significantly affect Ghana's ecosystem.
There are an unfortunate number of threatened species within Ghana, which are categorized as Critically Endangered, Endangered, and Vulnerable. The grove-toothed forest Mouse is the only Critically Endangered species. Endangered species include the
African elephant
, the
chimpanzee
, the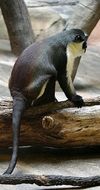 Diana monkey
, the red colobus, and the wild dog. Finally, the
African golden cat
, the Buettikofer's epauletted fruit bat, the
fat mouse
species, the lion, the pied bat, the red-fronted gazelle, the spotted-necked otter, the West

African manatee
, the white-thighed black-and-white colobus, and the white-toothed shrew species are all Vulnerable.
To protect the animals and their natural habitats, multiple nature preserves and national parks have been established. The Kakum National Park, for example, is a natural rainforest housing rare and endangered species of plants and animals where visitors can observe the wild from a Canopy Walkway around 40m/130ft off the ground. Kakum protects an especially rare and endangered animal called the Mona-
meerkat
. Other Ghanaian national parks include Ankassa, Bia, Bui, Digya, Kyabobo, Mole, and Nini-Suhien. These are used not only for conservation, but for research and study as well.