Custom Search
Guadeloupe

Guadeloupe, in the Leeward Islands of the French West Indies, is a collection of French-language islands. It is known for its exemplary beaches, clear water and lively parties. It is found in the eastern end of the Caribbean and is one of the French over sea's departments.
5 Facts You Might Not Know
1
Guadeloupe is an archipelago made up of nine islands. These include Basse-Terre and Grande-Terre, which are both shaped like a butterfly. Other islands are La Desirade, Marie-Galante, Iles de Santes, Isles de la Petite Terre, Saint-Barthelemey and Saint Martin on the French section of the island of Saint Martin next to the Dutch part, Sint Maarten.
2
The peak time to visit Guadeloupe occurs from December through May as the weather is warm and dry. The remainder of the year is hot, humid and wet, particularly between July and November. The islands have a subtropical climate that is moderated by the trade winds.
3
The local distilleries that make run provide tours though the hours differ according to the season. The tours are worthwhile for visitors as they are given samples. The production of rum is a vital element of Guadeloupe's economy. The residents' drink is white run made into the Ti Punch consisting of rum, lime and sugar cane or brown sugar.
4
The French chose to set up colonies on the island and took control in 163
5
Guadeloupe was occupied later by the British several times during the 18th and 19th century. France regained control of the island which became an official French department in 1946 and then developed into a French region in the 1980s. 5. The islands encompass white sandy beaches, rainforest filled with wildlife and the tallest waterfall in the Caribbean in the jungle of Basse-Terre. Some waterfalls are a close walking distance from the parking lot, but others require three to fours hours of walking.
The capital of Guadeloupe
is Basse-Terre. The
currency of Guadeloupe
is the Euro(EUR)
Guadeloupe belongs to the
North American continent
More countries starting with G
Airports in Guadeloupe
Pointe-


Map of Guadeloupe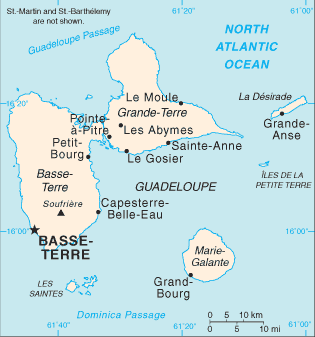 Population
452,776
Languages spoken in Guadeloupe
Animals native to Guadeloupe / which animals live in Guadeloupe?
Click here for all
Animals in Guadeloupe
Coordinates (in Latitude & Longitude) of Guadeloupe
16 15 N, 61 35 W
Kilometers of coastline
306 kilometers
Square kilometers of land
1,706 square kilometers
Square kilometers of water
74 square kilometers
Birth rate
15.05 / 1000 population
Death rate
6.09 / 1000 population
Irrigated land
60 sq km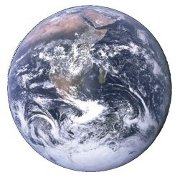 Information about Guadeloupe is brought to you by
"List of countries of the world"
, your first stop in discovering all countries of the world.
Besides demographic information, geological information about Guadeloupe, also the flag of Guadeloupe and a map is displayed. View also countries of the world ordered by:
Privacy policy