Custom Search
Guatemala

Guatemala lies to the south of Mexico in Central America. The country encompasses just over 42,000 miles, similar in size to Tennessee. Its population numbers approximately 13,250,000 residents, for a population density of approximately 315 persons per square mile. The terrain is coastal and mountainous. The climate along the coast is tropical, while its mountains are temperate.
5 Facts You Might Not Know
1
The highest mountain in Guatemala rises to 13,845 feet, making it home to the tallest mountain in Central America. Tajumulco has a hiking trail all the way to the top, with views of Mexico, Guatemala and the Pacific when the air is clear.
2
Natural resources in Guatemala include oil, timber, gold and nickel. The U.S. Department of State reports that the U.S. is the major importer of goods produced in Guatemala, which include coffee, bananas, crude oil, sugar and textiles.
3
The first people to inhabit Guatemala were the Mayans. Guatemala gained its current independence from Spain in 1821 and after decades of dictatorships and military rule, Guatemala currently enjoys a democratic republic. Like the U.S., the country has three divisions in its federal government: the executive, legislative and judicial.
4
Guatemala sees its share of natural disasters, since it lies between the Pacific Ocean and the Caribbean Sea. The country has had volcanic eruptions that have forced moving the country's capitol three times. The country also experiences earthquakes, hurricanes and tropical storms.
5
The Maya Biosphere Reserve is the second largest forest in Central America. The country has five different ecosystems with substantial diversity, including 8,681 different vascular species of plants, 13,5 percent of which are native to this country. The country has 1,246 different animal species, some of which are endangered. The country was the original source for corn, potatoes, tomatoes, chili peppers, avocados and chocolate.
The capital of Guatemala
is Guatemala City. The
currency of Guatemala
is the Quetzal(GTQ)
Flag of Guatemala
Guatemala belongs to the
North American continent
More countries starting with G
Airports in Guatemala
Coban
,
Guatemala Aeropuertola Aurora
,
Huehuetenango
,
Puerto Barrios
,
Quezaltenango
,
Retalhuleu
,
San Jose
,
Zacapa
, and
Tikal
Leaders of Guatemala
Map of Guatemala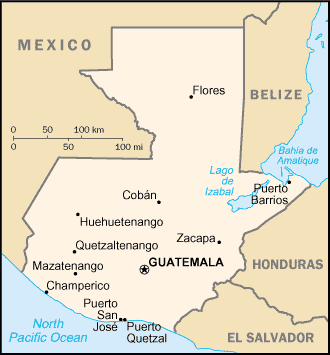 Population
12,728,111
Languages spoken in Guatemala
Spanish
Animals native to Guatemala / which animals live in Guatemala?
Click here for all
Animals in Guatemala
Airlines in Guatemala
Click here for all
Airlines in Guatemala
Coordinates (in Latitude & Longitude) of Guatemala
15 30 N, 90 15 W
Kilometers of coastline
400 kilometers
Square kilometers of land
108,430 square kilometers
Square kilometers of water
460 square kilometers
Birth rate
29.09 / 1000 population
Death rate
5.27 / 1000 population
Irrigated land
1,300 sq km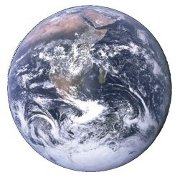 Information about Guatemala is brought to you by
"List of countries of the world"
, your first stop in discovering all countries of the world.
Besides demographic information, geological information about Guatemala, also the flag of Guatemala and a map is displayed. View also countries of the world ordered by:
Privacy policy