Guinea is a small African country that is divided into four regions. There is a coastal region along the Atlantic shoreline, pastoral highlands, a savannah region, and a rainforest area. As a result, this country is home to wide array of wild animals.
The Cassine Lizard Worm Lizard and Latastia Ornata, a long tailed lizard, are both unique only to the country of Guinea, as are several insects, including two different grasshoppers, two dung beetles, and the Tiger Beetle. Two different wolf spiders and one particular jumping spider are also indigenous only to Guinea.
These are by no means the only examples of wildlife you will find in this amazing area. Thanks to the geographical variety found here, the country is rife with animals of all kinds. Among the endangered species found here are the
chimpanzee
and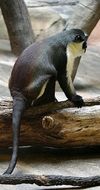 Diana monkey
, the

Liberian mongoose
, and the

Nimba Otter Shrew
. These species are protected as their numbers are quickly dwindling. In addition, there are nine different species in Guinea that are listed as vulnerable, including the Aellen's Roundleaf Bat, the
African elephant
, the
African Golden Cat
, and the West
African Manatee
.
Other animals found in Guinea include species from several categories: mammals, birds, primates, reptiles, and fish. There are over 50 different species of bats, primarily in the rain forest, while in the savannah area you will find African elephants,
spotted hyenas
,
giraffes
, and wild dogs. Take a trip to the highlands, and here you will see herds of
African buffalo
, the
Cape hare
, and a number of different rodents, including the
striped ground squirrel
, the African groove toothed rat, and the Kemp's gerbil.
The Atlantic coastal region offers a completely different scene, with gentle African manatees lazing in the warm coastal waters, as well as eight different species of whales and porpoises, making the area a prime spot for whale watching.