Honduras is located in Central America. Formally named Spanish Honduras, it is currently a Republic. Honduras borders both the Caribbean Sea and the Pacific Ocean. The climate of Honduras varies dramatically depending of the location; it is humid and tropical in the lowlands, and more cool and temperate in the mountains. These contrasting climates make Honduras an epicenter of biodiversity.
The

scarlet macaw
is the National bird of Honduras, and the country is reputed to have over 700 different species of birds. The different types of birds in Honduras range from the colorful and exotic toucan, parrot, and motmot, to the more average and common oriole, heron, and tanager. The Honduran fruit bat and the Van Gelder's Bat are also native to the country.
Due to the jungles and large swaths of backcountry in Honduras, monkeys are prevalent. The white-faced monkey, spider monkey, and howler monkey all make their home in Honduras. Other species that are native to the country are the anteater,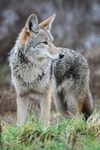 coyote
, fox, armadillo, and the white-tailed deer, which is the National animal of Honduras. In other words, the two specific regions in Honduras, the tropical jungle and the mountains scattered with pine and oak trees, each has its own distinct animal species.
One of the more exotic, notorious, and elusive animals in Honduras is the
jaguar
. They are believed to dwell in the forests of the Mosquito Coast, but because of their caution and stealth they are rarely seen, documented, or photographed.
Honduras may be a small country, but its opposing climates and varying landscape offers a diverse animal population.