Custom Search
Croatia

Croatia is a central European country that will leave a visitor to the country astounded by the natural beauty to be found within Croatia and its vast assortment of landscapes that offer supreme visual delights. Croatia offers many treasures for your discovery.
5 Facts You Might Not Know
1
Croatia is home of the planets most indented shoreline. Many lovely islands can be found here, well over 1,000 are uninhabited! The Adriatic Sea is one of the most popular tourist destinations within the country of Croatia.
2
Croatia is a popular destination for health and wellness tourism. In Croatia, spas embrace the healing and therapeutic powers of natural thermal and mineral springs. In an approach to treating the entire person instead of one ailment, many packages are available at Croatian spas for your relaxation and health.
3
The Croatian War of Independence was fought from 1991 to 1995 in order to declare Croatia's independence from Yugoslavia, which was a socialist republic. The main goals of the war were to preserve the Croatian borders and achieve the country's independence.
4
Croatia offers an impressive selection of fine wines produced within the country. Wine making in Croatia has a long history. In the 5th century (BC) vineyards were introduced to the country by settlers from Greece. While there are over 700 varieties of wine produced within the country, most locals and wine connoisseurs will agree that the region produces superb red grapes that make an excellent red wine. In 2009, the world of wine experienced a jaw dropping moment when Croatia was received not one or two, but 8 gold medals for wines in a variety of categories.
5
Croatia is home of famed UFC fighter Mirko Filipovic, sometimes known as Mirko Cro Cop. Filipovic was a member of the Croatian Parliament from 2003-2007. His alias or nickname stem from his membership of the very elite Special Forces police unit of Croatia.
The capital of Croatia
is Zagreb. The
currency of Croatia
is the Croatian Kuna(HRK)
Flag of Croatia
Croatia belongs to the
European continent
More countries starting with C
Airports in Croatia
Rijeka
,
Split
,
Vrbanja
,
Bihac
,
Rijeka-Krk
,
Zadar
,
Zagreb - Maksimir
,
Dubrovnik - Cilipi
,
Losinj Island
,
Cepin
,
Slavonski Brod
,
Osijek - Cepin
,
Pula Aerodrome
,
Brac
,
Hvar Airport
,
Varazdin
, and
Zagreb - Pleso
Leaders of Croatia
List of seas in Croatia
Virsko More
Map of Croatia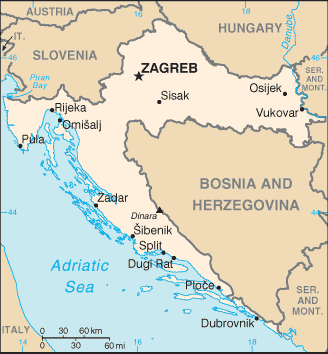 Population
4,493,312
Croatian
,
Italian
Animals native to Croatia / which animals live in Croatia?
Click here for all
Animals in Croatia
Airlines in Croatia
Click here for all
Airlines in Croatia
Coordinates (in Latitude & Longitude) of Croatia
45 10 N, 15 30 E
Related micronations
Peščenica
Kilometers of coastline
5,835 kilometers
Square kilometers of land
56,414 square kilometers
Square kilometers of water
128 square kilometers
Birth rate
9.63 / 1000 population
Death rate
11.57 / 1000 population
Irrigated land
110 sq km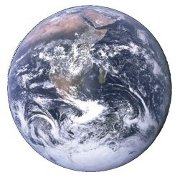 Information about Croatia is brought to you by
"List of countries of the world"
, your first stop in discovering all countries of the world.
Besides demographic information, geological information about Croatia, also the flag of Croatia and a map is displayed. View also countries of the world ordered by:
Privacy policy