Iran is not a nation many commonly think of when the topic of wildlife is discussed. The reason for this s because Iran is largely comprise of desert. Of course, the desert region ' and other areas of Iran -- is home to all manners and variety of animals. Among the most common animals indigenous to Iran are:
Among the more surprising animals indigenous to Iran are Big Cats such as panthers, the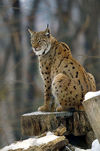 Eurasian Lynx
, and Persian Leopard. Iran is the last remaining refuge of the Asiatic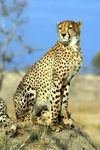 Cheetah
which is an endangered species.
In addition to a large number of big cats, wild canines live in the region as well. Iran is one of the few nations with a sizeable population of wolves and alongside the feral wolves are their animal kingdom cousins jackals and foxes.
Animals that need to be 'aware' of these big cats include gazelles, boars, wild sheep, and deer. These animals live throughout Iran in abundance.
Wild pigs and bears are other animals not commonly associated with the Middle East that live in Iran.
Of course, there is a significant volume of bird life in Iran which would be rather expansive to list. Some of the more popular of this bird life would be storks, eagles, falcons, partridges, and pheasants.
Iran also maintains a sizeable population of domestic animals which have long since lived side by side with humans in the nation dating back to the Persian Empire of antiquity. These animals include horses, cattle, sheep, goats, donkeys, camels, and even

water buffalo
.
This is but a small fraction of the animals that live in Iran. There are thousands of different species of animals in Iran. This includes both domestic and wild animals and, unfortunately, it also includes a fraction of animals which are considered endangered.