Custom Search
Cote d'Ivoire

Located in West Africa, Cote d'Ivoire (The Ivory Coast) is a nation that was home to many ancient kingdoms in pre-colonial times. It still has incredible art, carvings and cultural arts displayed in museums and galleries and being created in small villages throughout the country. A trip to Cote d'Ivoire is a fantastic journey into a land that straddles the past and the future. There is amazing natural beauty and mineral wealth and signs of growth which make it a wonderful place to visit. There are several interesting things people should know about the Republic of Cote d'Ivoire:
5 Facts You Might Not Know
1
C'te d'Ivoire has an area of 322,462 square kilometers (124,503 sq mi). It has a population of about 21 million people. The country is bordered by Burkina Faso, Ghana, Guinea, Liberia and Mali. The Gulf of Guinea forms its southern border.
2
The terrain in C'te d'Ivoire is diverse. There are beautiful inland lagoons in the east, large areas of dense tropical forest, mountains in the northwest and an excellent network of rivers throughout the country. In central C'te d'Ivoire there is a mix of forest and savanna which runs across the country's width. This gives way to interior savannas and grassland habitats which are part of the shrub lands biome.
3
Cote d'Ivoire was colonized by France. Although the country gained independence in August 1960, French remains the official language. Local languages including Baoul', Dioula, Dan, Anyin and Cebaara Senufo are also widely spoken. The natives of C'te d'Ivoire are a proud people who are always willing to talk about the ancient kingdoms of Gyaaman, Baoul', the Anyi kingdoms of Ind'ni' and Sanwi, and the Kong Empire.
4
Cote d'Ivoire leads the world in the production of cocoa. Timber is also a major revenue earner. The country is blessed with great natural resources including bauxite, cobalt, diamonds, iron, oil, natural gas and manganese.
5
The highest point in the country is the 1,752 meters tall Mount Nimba. Exploring the 800 kilometer long Bandama River or Lake Kossou, the country's largest lake, is a great holiday adventure.
The capital of Cote d'Ivoire
is Yamoussoukro.
Côte d'Ivoire is an African country
More countries starting with C
Airports in Cote d'Ivoire
Abidjan
,
Bouake
,
Bondoukou
,
Dimbokro
,
Daloa
,
Gagnoa
,
Korhogo
,
Man
,
Odienne
,
San Pedro
,
Sassandra
,
Tabou
, and
Yamoussoukro
Map of Cote d'Ivoire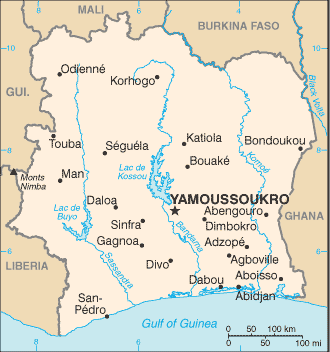 Population
18,013,409
Languages spoken in Cote d'Ivoire
Animals native to Cote d'Ivoire / which animals live in Cote d'Ivoire?
Click here for all
Animals in Cote d'Ivoire
Airlines in Cote d'Ivoire
Click here for all
Airlines in Cote d'Ivoire
Coordinates (in Latitude & Longitude) of Cote d'Ivoire
8 00 N, 5 00 W
Kilometers of coastline
515 kilometers
Square kilometers of land
318,000 square kilometers
Square kilometers of water
4,460 square kilometers
Birth rate
34.69 / 1000 population
Death rate
14.74 / 1000 population
Irrigated land
730 sq km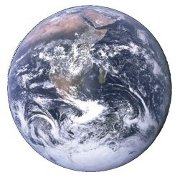 Information about Cote d'Ivoire is brought to you by
"List of countries of the world"
, your first stop in discovering all countries of the world.
Besides demographic information, geological information about Cote d'Ivoire, also the flag of Cote d'Ivoire and a map is displayed. View also countries of the world ordered by:
Privacy policy