The animals native of Iraq have been predominantly determined by the arid climate and terrain of the country's mountains and deserts. Nestled in western Asia, Iraq provides homes to a variety of animals that can withstand the arid climate. Rodents, snakes, hedgehogs, gazelle and large cats are some of the animals that call Iraq home.
Rodents indigenous of Iraq include the

Caucasian Squirrel
,
Cairo Spiny Mouse
,
Indian Gerbil
and the
Gray Dwarf Hamster
. As is common with rodents around the world, the rodents of Iraq are relatively adaptable and can survive in a variety of conditions although, these particular animals prefer the Iraq's hot dry climate and the mountainous regions of the country.
There are several poisonous snakes that find the sandy desert conditions of Iraq to be particularly hospitable including the Desert Cobra, Field's

Sand Viper
, Persian Horned Viper and Desert Horned Viper.
Both the Long Eared Hedgehog and the

Desert Hedgehog
inhabit the deserts of Iraq but prefer dry shrubby areas found near the country's oases. Considered solitary creatures, hedgehogs live in burrows and mostly feed on desert beetles and other insects.
The

Goitered Gazelle
found in Iraq, does not share the trait of leaping and bounding as gazelle found in other parts of the world. Running at high speeds and traveling in herds, the Goitered Gazelle prefers the sandy terrain of Iraq.
Although approaching extinction in the Iraq, the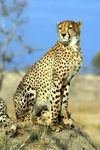 cheetah
is a native animal to the country. The dwindling numbers of the cheetah are primarily due to over hunting. The leopard and the lion are also big cats that once had formidable presence throughout Iraq but have been over hunted and are now chiefly found in Africa.
The animals found in Iraq are diverse but share the common preference for the country's dry climate and varying terrain.