Custom Search
Kiribati

5 Facts You Might Not Know
1
Kiribati is not a single island. The Republic encompasses 32 atolls, as well as one proper island, all situated approximately halfway between Hawaii and Australia in the South Pacific Ocean. Of the atolls, there are three major island groups: the Line Islands, the Phoenix Islands, and the Gilbert Islands. The land mass of Kiribati is extremely small, with most of the land on these islands no more than two meters higher than sea level. This means that it is extremely vulnerable to sea-level rises as a result of climate change; in fact, Kiribati could disappear entirely during the 21st century if the trend is not reversed.
2
Kiribati was formerly situated on both sides of the International Date Line, the line used to mark the beginning of the day as it progresses across the globe. In 1995, Kiribati's government voted to move the line eastward, so that the entire country was now situated in the same time zone. With the new millennium on 1 January 2000, Kiribati was publicized as the first land on Earth to welcome in the year, and Caroline Island, renamed 'Millennium Island' for the occasion, and was visited by media from around the world.
3
Kiribati remains a very traditional and laid-back culture. Despite its colonial occupation and the impact of World War II, its people continue to thrive on fish, breadfruit and coconut and live in raised thatched dwellings in the traditional style.
4
The native people of the country are known as 'I-Kiribati', with the word 'kiribati' being the localized spelling of 'Gilbert' ' as a British colony, Kiribati was known as the 'Gilbert Islands'.
5
Kiribati is famous in the South Pacific for its exciting dancing. The culture of the islands emphasizes a dance with birdlike movements of the head and arms, emulating the Frigate bird, which appears on the Kiribati flag. Dances are performed either sitting or standing, and it is considered bad practice to smile whilst dancing, as dancing is perceived to be a solemn form of storytelling which displays the teller's skill and determination.
The capital of Kiribati
is South Tarawa. The
currency of Kiribati
is the Australian Dollar(AUD)
Flag of Kiribati
Kiribati belongs to the
Oceanian continent
More countries starting with K
Airports in Kiribati
Beru
,
Tarawa
,
Arorae
, and
Butaritari
Leaders of Kiribati
Map of Kiribati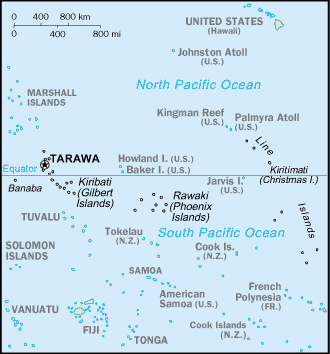 Population
107,817
Languages spoken in Kiribati
English
,
Kiribati
Animals native to Kiribati / which animals live in Kiribati?
Click here for all
Animals in Kiribati
Airlines in Kiribati
Click here for all
Airlines in Kiribati
Coordinates (in Latitude & Longitude) of Kiribati
1 25 N, 173 00 E
Kilometers of coastline
1,143 kilometers
Square kilometers of land
811 square kilometers
Square kilometers of water
0 square kilometers
Birth rate
30.48 / 1000 population
Death rate
8.12 / 1000 population
Irrigated land
NA sq km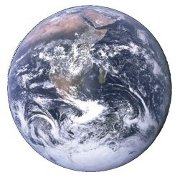 Information about Kiribati is brought to you by
"List of countries of the world"
, your first stop in discovering all countries of the world.
Besides demographic information, geological information about Kiribati, also the flag of Kiribati and a map is displayed. View also countries of the world ordered by:
Privacy policy