Although landlocked (the largest landlocked nation in the world) Kazakhstan is home to an astonishing variety of wildlife. Its fauna include rare species such as the saiga antelope, red bear,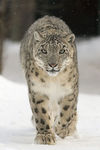 snow leopard
and

golden eagle
.
Portions of the Republic of Kazakhstan are in two continents: Europe and Asia. The largest independent Turkic state in Central Asia, Kazakhstan encompasses approximately 2.7 million square kilometers. The terrain is mainly treeless steppe and desert, with arid to semi-arid climates. Certain regions of Kazakhstan feature rocky canyons, snow-peaked mountains and conifer forests (taigas). Different wildlife species flourish in different regions of the country.
Kazakhstan's desert life includes snakes, lizards and other reptiles; jerboas, gophers and other rodents; and larger animals such as gazelles. Deer, boars, jackals and other mammals live near lakes and rivers. The steppes are home to deer, antelope, badgers, wolves and foxes. In the mountains roam snow leopards, bears and smaller species including lynxes, ibexes, boars and wolves.
Birds of Kazakhstan are diverse. Large species such as vultures and eagles nest in the mountains. Observers in the steppes spot falcons, hawks, pheasants, grouse and partridges.
Kazakhstan maintains a number of nature reserves. The oldest, established in 1927, is Aksu-Zhabagly. Within its 85,000 hectares dwell some 50 mammal and 240 bird species, including the snow leopard, red bear and golden eagle.
In eastern Kazakhstan, Caspian deer and bears are among the more than 80 animal species in the Markakol Natural Reserve. A mountain lake is home to the unusual uskuch whitefish.
The rare white heron is a distinguished inhabitant of the Naurzum One reserve. Kurgaldzhino is remarkable for its rare bird species, including the

mute swan
and
Dalmatian pelican
. The Ustyurt Reserve is noted for its reptilians.
Various international organizations have been active in preserving Kazakhstan's natural assets. Expert-guided wildlife tours are available.