Custom Search
Laos

As one of the most mountainous regions in Southeast Asia, Laos happens to be one of the most unravelled regions in East Asia. Unfortunately, for most travelers, this hidden gem holds some prized attractions that marvel even the most well-traveled traveler. Within the borders of Laos are some of the most angelic natural attractions in the whole world.
5 Facts You Might Not Know
1
The levels of crime throughout Laos are exceptionally low. The reason for this safety is the high levels of corruption in the country. Many citizens' legal rights tend to be practically non-existent and, therefore, fear encompassing the entire population's mind.
2
Laos has a diverse population make up of over forty-nine ethnic groups. The two ethnic groups or 'tribes; that constitute a majority of the Lao population is the Khmou and the Hmong. Accompanying the diverse boundaries in Laos is multiple dialects of a Lao-Tai language throughout the various tribes in Laos.
3
The earlier French colonization of Laos still holds an inspiration in some of the national customs within Laos. For example, the tasty little treat, the French Baguette, is sold in towns throughout the entire country. Moreover, there are still relics of French colonial architecture contained in Laos such as a World Heritage Site known as Luang Prabang. Currently, this is the site of the National Museum of Laos.
4
Over fourteen percent of the country's land area is known as National Biodiversity Conservation Areas. These titles were implemented to prevent the degeneration of Laos' most precious natural regions. The laws restricting the abuse of wildlife in these regions are strict and persecuted harshly.
5
Laos is the only landlocked country in Southeast Asia. Close to three-quarters of the landmass is made up from mountainous terrain and forested hills. The forests in Laos are known as some of the thickest forests on the globe.
The capital of Laos
is Vientiane.
Flag of Laos
Laos belongs to the
Asian continent
More countries starting with L
Airports in Laos
Attopeu
,
Luang-Prabang
,
Sayaboury
,
Savannakhet
,
Saravane
,
Thakhek
, and
Vientiane
Leaders of Laos
Map of Laos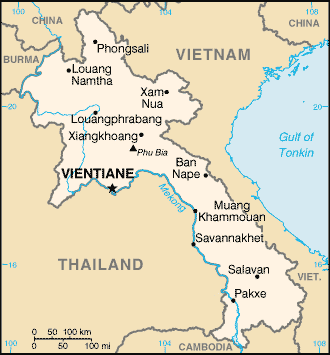 Population
6,521,998
Lao
Animals native to Laos / which animals live in Laos?
Click here for all
Animals in Laos
Coordinates (in Latitude & Longitude) of Laos
18 00 N, 105 00 E
Kilometers of coastline
0 kilometers
Square kilometers of land
230,800 square kilometers
Square kilometers of water
6,000 square kilometers
Birth rate
34.98 / 1000 population
Death rate
11.28 / 1000 population
Irrigated land
1,750 sq km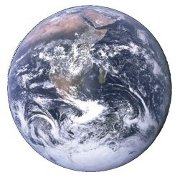 Information about Laos is brought to you by
"List of countries of the world"
, your first stop in discovering all countries of the world.
Besides demographic information, geological information about Laos, also the flag of Laos and a map is displayed. View also countries of the world ordered by:
Privacy policy