Custom Search
Madagascar

The fascinating island country of Madagascar is a land of uniqueness and allure. The nation's distinct qualities and vibrant cultural communities add to the country's charm and appeal. It is located in the vast Indian Ocean just off the coast of the southern part of the African continent. Here are some other fascinating facts worth knowing about Madagascar:
5 Facts You Might Not Know
1
Madagascar is the fourth largest island in the world. It occupies a total land mass of nearly 226,700 square miles, or roughly almost 587,000 square kilometers. Only the islands of Greenland, New Guinea and Borneo are considered to be larger in land area.
2
Most of the animal species living in Madagascar are unique to nation. The adorable black and white indri lemur can be found in the nation's rainforest, while the predatory fossa can be found lurking in the trees above for its next prey. Several different bird and insect species also roam the land.
3
Agricultural goods are a huge commodity in Madagascar. The island nation is the top exporter of vanilla in the world. Coffee, sugar and cotton are also among some of the country's leading exports. In addition to agricultural goods, shellfish and textiles additionally serve as examples of some of Madagascar's notable leading exports.
4
Madagascar is a special land of many languages. The top languages spoken are Malagasy and French, followed by English. Other lesser known languages and dialects, such as Maore and Comores Swahili, are also known to be spoken by the nation's people.
5
The climate of the country is considered to be subtropical. This means that most of Madagascar experiences a humid rainy season usually between November and April. Dry and cooler weather persists from the beginning of May through the end of October.
The capital of Madagascar
is Antananarivo. The
currency of Madagascar
is the Malagasy Ariary(MGA)
Flag of Madagascar
Madagascar is an African country
More countries starting with M
Airports in Madagascar
Tamatave
,
Ivato
,
Andrakaka
,
Antsirabe
,
Maintirano
,
Sainte-Marie Aerodrome
,
Morondava
,
Andapa
,
Antalaha
,
Analalava
,
Majunga
,
Fascene Nossi-Be
,
Besalampy
,
Sambava
,
Vohemar
,
Fort-Dauphin
,
Fianarantsoa
,
Farafangana
,
Mananjary
,
Morombe
,
Tulear
, and
Avaratra
Leaders of Madagascar
Map of Madagascar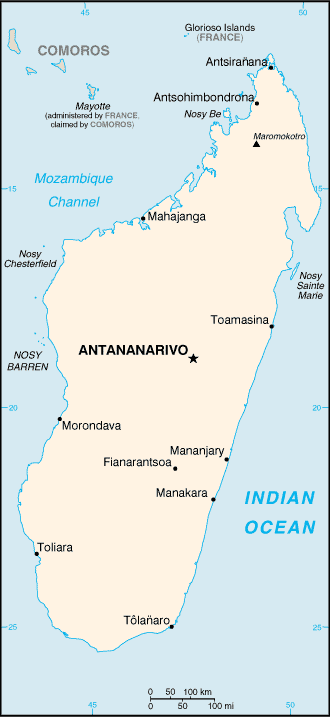 Population
19,448,815
Languages spoken in Madagascar
French
,
Malagasy
Animals native to Madagascar / which animals live in Madagascar?
Click here for all
Animals in Madagascar
Airlines in Madagascar
Click here for all
Airlines in Madagascar
Coordinates (in Latitude & Longitude) of Madagascar
20 00 S, 47 00 E
Kilometers of coastline
4,828 kilometers
Square kilometers of land
581,540 square kilometers
Square kilometers of water
5,500 square kilometers
Birth rate
38.6 / 1000 population
Death rate
8.51 / 1000 population
Irrigated land
10,860 sq km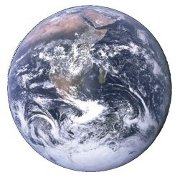 Information about Madagascar is brought to you by
"List of countries of the world"
, your first stop in discovering all countries of the world.
Besides demographic information, geological information about Madagascar, also the flag of Madagascar and a map is displayed. View also countries of the world ordered by:
Privacy policy