Mongolia is a country in the heart of Asia that has little impacted by the presence of man. The country is very interested in the preservation of its natural reserves. Mongolia has a very diverse animal population, there is approximately 59 bird species and about 28 mammal species. Livestock is unquestionably the most abundant and most visible part of animal life in this country and its livestock is the primary occupation of the rural population. As such, livestock comprises about 90% of the domestic agricultural industry and animal by-products like horse hair, sheep wool, hides, bone-dust, raw cashmer, and meat are an enormous part of Mongolian exports. The five chief species of domesticated animals are horses, sheep and goats, cows, camels, and reindeer. Generally, herds graze freely under the watchful eye of a herdsman and are brought back to the settlement at night. Other animals that are unique to Mongolia are the marmot, which are large ground squirrels that live in the Mongolian steppes. Marmot hunting is a favorite pastime for many Mongolians because marmot meat is considered very flavorful and a delicacy.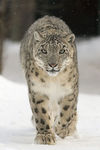 Snow leopards
are very rare and are an endangered species because many poachers seek them out for their fur. Then there is the Mongolian Yak, of the subspecies, Bos grunniens, also know as a type of ox, that is predominent in the northern and western region of the country. These animals are favored for their strength in pulling and their hides are also prized.
There exists in Mongolia, various animal habitats. Forests, cover about 15% of the country. Then there are steppes and meadows which cover about 52% of the country's territory. Lastly, Mongolia is covered in about 32% percent desert. The largest and most famous being the Gobi desert; the deserts are sparsely populated with vegetation.