Mali is a land which borders the Sahara Desert. In fact 40% of Mali is covered with desert or semi-desert. Still the country has an amazing array of wild animals. Mali has African Lions, Ball Pythons, Black Rhinos, crocodiles,
chimpanzees
, dromedary camels, elephants, lemurs,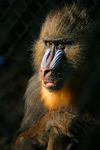 Mandrill
Baboons,
meerkat
,
giraffes
, hippos, leopards,

spotted hyenas
and many others. The country also has a large number of birds including endangered species like the
aquatic warbler
, the
corncrake
, greater
spotted eagle
, lappet-faced vulture,
lesser Kestrel
, marbled teal and the Mali fire finch among others. The country is a natural wonderland and thousands visit each year to enjoy the flora and fauna.
Mali has diverse landscapes. While the northern section is covered with arid and semi-arid desert regions, the central and southern region of the country features grassy savannahs and tropical wetlands. This has a direct impact on the plant and animals life found in this African nation. Forests are found along its border with Guinea. There are also river valleys where ibis, pelicans, kingfishers, ducks and herons make their homes. The diversity in the landscape makes Mali attractive to a stunning array of predatory and prey animals. They all compete for nesting space and continue the ancient drama of the interaction of the species which has taken place in this vast natural wonderland for many millennia.
The country also has a number of plants and animals found nowhere else on the planet. There is the rupicolous gerbil, the Mali carpet viper, the Mali screeching frog and batta marsh toad, a
killifish
and an
elephant fish
and several invertebrates including a ground beetle and a flower beetle, a katydid, a jumping spider, several scorpions and beetles. The land is awash with interesting species. Want to see nature's finest? Take time to see Mali's flora and fauna.