Mauritania is a country that consists of about 75% desert. It also has the occasional ridge and cliff outcroppings. One of its largest landforms is Adrar Plateau standing at just under 2,000 feet. Mauritania also contains a number of oasis which helps bring more of a variety of wildlife to this country. Mauritania boarders the North Atlantic Ocean and is also home to plains and sand dunes. The desert has been expanding for the last 50 years do to the ongoing drought that Mauritania has been experiencing.
There are two sea streams that run past the Mauritania coast. These sea streams, both cold and warm, help to make their coastline extremely diverse in aquatic life. This aquatic life includes dolphins, sharks, octopus, tuna, mackerel, and many others. Mauritania is also home to the Addax, a grayish brown mammal with spiral horns that slant upward. Due to the ever increasing drought, the Addax is on the verge of extinction. This extinction is also caused from the unrestricted hunting in this country. One of the most awe inspiring mammals that live here is the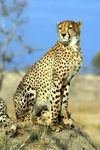 Cheetah
. The Cheetah is known for being the fastest animal on the planet and lives in open areas that are littered with patches of vegetation. Since Gazelles are its main prey, a cheetah can usually be found in the same general area. One of the most abundant creatures that inhabit Mauritania is birds. This country has been a bird lover's paradise for many years. Some of the most popular birds in this country include pelicans, cormorants, and herons. The reason for the large number of birds to populate this country is because Mauritania lies in the migration path of hundreds of species of birds. Large mammals such as lions, monkeys, and foxes are also found here, but in a very concentrated are due to the lack of food and water available to these mammals.