Custom Search
Niger

Niger is one of the world's poorest countries but is rich in culture and history. Friendly locals love to show their country off to visitors and will not hesitate guide you toward the best markets and parks. The ancient towns of Agadez and Zinder are practically living museums and the natural landscape is breathtaking. Read on to discover five more things you might not know about this desert country.
5 Facts You Might Not Know
1
The W National Park spans areas in Niger, Benin and Burkina Faso. A UNESCO World Heritage Site, the park provides a safe habitat for leopards, warthogs, buffalo, baboons, elephants, cheetahs, lions, caracal and other exotic creatures. Over 350 species of birds can be viewed throughout the 10,000 square kilometer reservation. Guided treks and safaris offer the best opportunities for spotting the sometimes elusive animals.
2
The last known surviving herd of West African giraffes live near the southwestern city of Koure. For a small fee, visitors can view the herd at the local wildlife park.
3
The town of Baleyara is a great place to buy traditional crafts. Handwoven blankets in colorful patterns are a popular item. The country is also known for its woodworking, including bowls and carved spoons.
4
Hippos can be seen in the waters near Ayorou, a small riverside town in the southwest. The best way to see the hippos is by boat with a local guide.
5
Porridge, rice, beans and cous-cous are staple foods in Niger. Other popular foods are fari massa, fried dough served with salsa, koudagou, fried sweet potatoes, and kilishi, a beef jerkey that is covered in hot pepper sauce. Cool drinks like apollo, made from the baobab fruit, and bisap, made from hibiscus leaves, offer relief on a hot day.
The capital of Niger
is Niamey. The
currency of Niger
is the CFA Franc BCEAO †(XOF)
Flag of Niger
Niger is an African country
More countries starting with N
Airports in Niger
Maradi
,
Niamey-Aero
,
Tahoua
,
Agadez
,
Diffa
, and
Zinder
Leaders of Niger
Map of Niger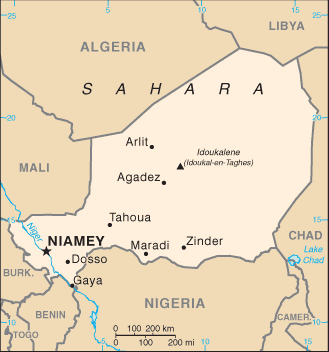 Population
12,894,865
French
Animals native to Niger / which animals live in Niger?
Click here for all
Animals in Niger
Coordinates (in Latitude & Longitude) of Niger
16 00 N, 8 00 E
Kilometers of coastline
0 kilometers
Square kilometers of land
1,266,700 square kilometers
Square kilometers of water
300 square kilometers
Birth rate
50.16 / 1000 population
Death rate
20.59 / 1000 population
Irrigated land
730 sq km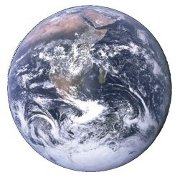 Information about Niger is brought to you by
"List of countries of the world"
, your first stop in discovering all countries of the world.
Besides demographic information, geological information about Niger, also the flag of Niger and a map is displayed. View also countries of the world ordered by:
Privacy policy