Custom Search
Peru

There are many interesting and mysterious things to tell you about Peru. Europeans came to Peru in 1532 and wiped out a civilization that was the biggest empire in the western hemisphere.
5 Facts You Might Not Know
1
Cuzco Peru was considered by the Inca civilization to be the center of the world. In fact, the name Cuzco in the language of the Incas meant navel of the world. Archaeologists consider Cuzco as the archaeological capital of North and South America. The last week of June is the time to be in Cuzco for the Inca Festival of the Sun. The original Inca Sun Temple is enclosed within the Catholic Church of Santo Domingo.
2
Manu Peru National Park is an amazing 4,5 million acres in size that is not only a park but also a wilderness reserve and protected tropical park. Manu is the most biologically diverse nature preserve in the world. Visiting is possible but very rustic and not for the faint at heart.
3
The Nazca Lines are one of the most famous attractions in Peru. They are ancient geometric forms laid out across hilly terrain in the shape of stylized human and animal shapes and forms. They can only be seen from the air and no one has been able to determine whom they were built by and for what purpose.
4
Lake Titicaca is the world's highest navigable lake at 12,500 feet about the surface of the ocean. The lake is quite mysterious with waters that change colors on the surface for unknown reasons. The lake is 3,200 square miles in size.
5
The Peruvian Amazon is the upper Amazon Basin and you can travel on 19th century riverboats that make you feel like you are part of an Agatha Christie mystery novel. There are many mysterious things to see. You may spot a new species of primate on your trip. If lucky, you may see pink and grey fresh water dolphins too.
The capital of Peru
is Lima. The
currency of Peru
is the Nuevo Sol(PEN)
Flag of Peru
Peru belongs to the
South American continent
More countries starting with P
Airports in Peru
Capitan Montes
,
Las Palmas
,
Aeropuerto Internacional Jorge Chávez
,
Atalaya
,
Pucallpa
,
Chimbote
,
Tingo Maria
,
Chiclayo
,
Ayacucho
,
Andahuayla
,
Anta Huaraz
,
Rioja
,
Juanjui
,
Juliaca
,
San Juan
,
Cajamarca
,
Tumbes
,
Yurimaguas
,
Huanuco
,
Chachapoyas
,
Iquitos
,
Arequipa
,
Trujillo
,
Pisco
,
Tarapoto
,
Tacna
,
Puerto Maldonado
,
Piura
,
Cuzco
,
Aeropuerto Anta
,
Aeropuerto Chachapoyas
,
Aeropuerto Juan Simón Vela
,
Francisco Secada Vigneta
,
Alerta
,
Aeropuerto Rodríguez Ballón
, and
Aeropuerto David Figueroa Fernandini Alferez
Leaders of Peru
List of oil fields in Peru
(1)
Map of Peru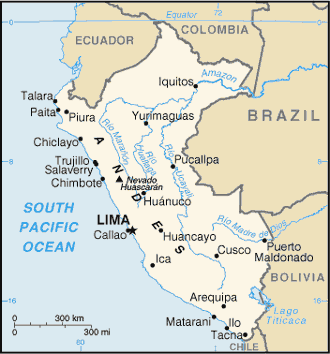 Population
28,674,757
Quechua
,
Aymara
,
Spanish
Animals native to Peru / which animals live in Peru?
Click here for all
Animals in Peru
Airlines in Peru
Click here for all
Airlines in Peru
Coordinates (in Latitude & Longitude) of Peru
10 00 S, 76 00 W
Kilometers of coastline
2,414 kilometers
Square kilometers of land
1280000 square kilometers
Square kilometers of water
5,220 square kilometers
Birth rate
20.09 / 1000 population
Death rate
6.21 / 1000 population
Irrigated land
12,000 sq km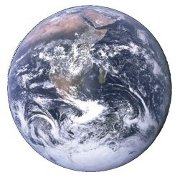 Information about Peru is brought to you by
"List of countries of the world"
, your first stop in discovering all countries of the world.
Besides demographic information, geological information about Peru, also the flag of Peru and a map is displayed. View also countries of the world ordered by:
Privacy policy