Even though Portugal is a relatively small nation, its borders hold one national park, twelve natural parks, nine natural reserves, and seven protected landscapes. Portugal is ranked among the warmest of the European countries with annual average temperatures ranging from the mid-50s (F) in the mountainous regions, up into the mid-60s (F) in the southern low lying areas. Because of the wide range of temperatures and the large number of protected areas, the native animal life is very abundant.
The large variety of Portuguese fauna includes an abundant amount of small to medium sized mammals. One might expect to run into any number of species of badger, rabbits and hares, weasel, mongoose, or civet. Species of canid include small fox and the Iberian wolf, cousing to the Eurasian wolf. The remaining packs of wolves in the regions of northern Portugal have been known to feed on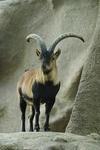 Spanish Ibex
, a strikingly beautiful species also known as the Iberian wild goat. In the southern areas of Portugal, one might still be able to catch a glimpse of the critically endangered Iberian lynx, a gorgeous spotted cat that can grow to near fifty pounds. There is also rumored to still be a small population of

brown bear
that crosses over from Spain from time to time.
In addition to the mammalian population, Portugal is also home to over six hundred species of birds with new species being discovered every few years. Many migratory birds also congregate in Portugal because of its close proximity to Africa. Portugal is host to over one hundred species of freshwater fish, including the monstrous European
catfish
, and to thousands of marine species because of the fact that it borders the ocean. Portugal is regarded as having some of the most biodiverse habitats in the world.
Another interesting aspect to the animal life native to Portugal is the island populations. Because individuals were cut off from other mainland populations generations ago, these specimens grew into unique species after years of restricted breeding. Because of this, there are also many species of birds, reptiles, bats, insects, snails and slugs, that are completely and totally unique to the nation of Portugal.