Custom Search
Seychelles

Seychelles is an archipelago nation which is located in the Indian Ocean. The official name of the county is Republic of Seychelles. There are a few ethnic groups that are quite dominant in Seychelles, those being Indian, French, African, and Chinese descent. Here you will learn a few facts that you probably did not know about Seychelles.
5 Facts You Might Not Know
1
Seychelles is an archipelago that consists of well over 100 islands. The capital of Seychelles is Victoria, which is located on the largest island, Mahe. Victoria is also one of the smallest capitals in the world.
2
Seychelles uses the same currency as India, known as Rupee. The Seychellois Rupee was first used in 1914, but only for the form of paper money. However, it wasn't until 1939 that coins were finally produced for Seychelles.
3
Roman Catholicism is the most dominant religion in Seychelles, making up for about 90% of the country. Angelicans only make up about 7% of the population. Many other religions have been introduced and remain steadily growing.
4
The turtle appears on the Coat of Arms of Seychelles. This is because the creature most commonly lives on the coasts of the island nation. The Hawksbill Turtle has the largest population on Seychelles. Remarkably, the world's largest population of the Hawksbill Turtle is in the nation of Seychelles. One of the islands, Aldabra, also contains the world's largest population of Giant Tortoises.
5
The author Mr. Ian Fleming, known as the author who created the ever so popular James Bond character, wrote a few of his books at Le Northolme Hotel. It is now called the Hilton Seychelles Northolme Resort and Spa. He also named a character from his novel For Your Eyes Only after a brand of ginger beer and tonic he had while in Seychelles. The character's name was Milton Krest.
The capital of Seychelles
is Victoria. The
currency of Seychelles
is the Seychelles Rupee(SCR)
Flag of Seychelles
Seychelles is an African country
More countries starting with S
Airports in Seychelles
Seychelles Inter-National Airport
,
Seychelles International Airport Rawinsonde Station
,
Bird Island
,
Denis Island
,
Desroches
, and
Praslin Island
Leaders of Seychelles
Map of Seychelles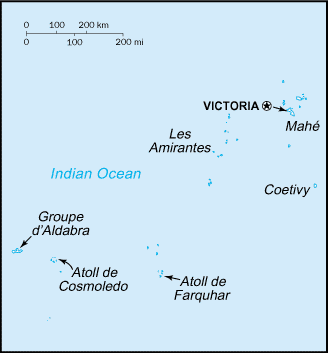 Population
81,895
Languages spoken in Seychelles
English
,
French
,
Seselwa
Animals native to Seychelles / which animals live in Seychelles?
Click here for all
Animals in Seychelles
Airlines in Seychelles
Click here for all
Airlines in Seychelles
Coordinates (in Latitude & Longitude) of Seychelles
4 35 S, 55 40 E
Kilometers of coastline
491 kilometers
Square kilometers of land
455 square kilometers
Square kilometers of water
0 square kilometers
Birth rate
15.83 / 1000 population
Death rate
6.25 / 1000 population
Irrigated land
NA sq km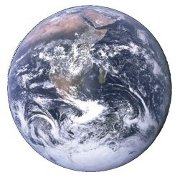 Information about Seychelles is brought to you by
"List of countries of the world"
, your first stop in discovering all countries of the world.
Besides demographic information, geological information about Seychelles, also the flag of Seychelles and a map is displayed. View also countries of the world ordered by:
Privacy policy