Custom Search
Sierra Leone

Sierra Leone's history began more than 2,500 years ago. It gained independence from the British and became a republic of West Africa in 1961. Their main religion is Muslim, followed by Christian. The official language is English. The capital is Freedomtown. Population was 4,976,871 as of 2004. A few other things you might not know about Sierra Leone:
5 Facts You Might Not Know
1
Slaves, at first, were those deeply in debt or in trouble in their own tribe. They indentured themselves to the chief of another tribe, if that chief would settle their debts or solve their problems. These slaves would maintain some freedoms, gradually work their way out of debt, and regain their freedom.
2
The first elections held in Sierra Leone, in the 1790s, included women's votes. Women have remained an important part of their culture. When a chief had to be away, his wife was left in charge of his domain. There are women chieftains and women in other government leadership positions.
3
Diamond mining is a main factor in Sierra Leone's economic growth, as is gold mining. Sierra Leone is listed in the top ten of high-grade diamond producers in the world. The term 'blood diamond' comes from the illegal diamond trade going on there. Thousands have died because of the greed and corruption in diamond trafficking.
4
Sierra Leone is home to the third largest harbor in the world: Freedomtown's Queen Elizabeth II Quay. They have restored a railway car that was built for Queen Elizabeth II to ride in on a visit that was planned in 1961. The visit was cancelled and the car was never used. It is on display at the National Railway Museum in Clinetown, Sierra Leone.
5
Sierra Leone was the educational hub of British-ruled West Africa. Established in 1827, Fourth Bay College drew many of English-speaking West Coast Africans. It remained the only university of its kind for over a century.
The capital of Sierra Leone
is Freetown. The
currency of Sierra Leone
is the Leone(SLL)
Flag of Sierra Leone
Sierra Leone is an African country
More countries starting with S
Airports in Sierra Leone
Lungi Airport



Leaders of Sierra Leone
Map of Sierra Leone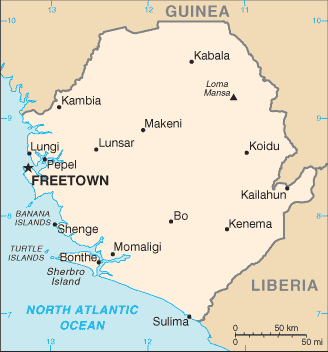 Population
6,144,562
Languages spoken in Sierra Leone
English
Animals native to Sierra Leone / which animals live in Sierra Leone?
Click here for all
Animals in Sierra Leone
Airlines in Sierra Leone
Click here for all
Airlines in Sierra Leone
Coordinates (in Latitude & Longitude) of Sierra Leone
8 30 N, 11 30 W
Kilometers of coastline
402 kilometers
Square kilometers of land
71,620 square kilometers
Square kilometers of water
120 square kilometers
Birth rate
45.41 / 1000 population
Death rate
22.64 / 1000 population
Irrigated land
300 sq km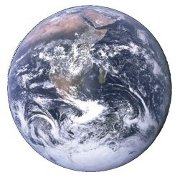 Information about Sierra Leone is brought to you by
"List of countries of the world"
, your first stop in discovering all countries of the world.
Besides demographic information, geological information about Sierra Leone, also the flag of Sierra Leone and a map is displayed. View also countries of the world ordered by:
Privacy policy