Custom Search
Spain

Spain is a fascinating country in Europe. Spain is captivating, from the colorful flamingos to the Mediterranean beaches. The people of Spain are called Spaniards. Spanish is the main language spoken, but there are a large number of other languages spoken in different parts of the country, as well. Spain is best known for its romance, culture and architecture. The best time of year to visit Spain is during the months of April, May and June or September, October and November.
5 Facts You Might Not Know
1
Spain has a lot of interesting festivals worth going to. The majority of festivals in Spain are grand and some are modest. There are literally dozens of festivals each year. Many have a religious origin and some festivals are historical. However, all festivals provide an insight into the culture of Spain.
2
Spain is well-known for their first-rate resorts. With all the stunning Mediterranean beaches and fabulous Spanish islands it is easy to see why Spain has so many first-class resorts. But Spain is also known for their excellent top-notch ski resorts. Actually, Spain is one of the most mountainous countries in Europe ranking second only to Switzerland. Therefore, it is not surprising that there are several exclusive ski resorts in Spain.
3
The Spanish are extremely passionate about their wine and food. Spanish food is light with a lot of vegetables. Spanish cuisine does not rely on spices; instead it relies on quality ingredients for great flavor. As such, one may find Spanish food to be bland. However, there are a variety of restaurants in most cities to experience a variety of flavors. Furthermore, Spaniards have a different timetable for eating than most people are used to.
4
Bullfighting is very popular in Spain and viewed as cultural heritage icon. Originally bullfight was a sport for the upper classes, but now thousands of Spaniards flock to the local bullfights every week.
5
Flamenco is a folk art in Spain that is over two hundred years old. Flamenco combines dance, song and guitar into passionate rhythms that are spontaneous and often improvised. The dance has sophisticated footwork and complex patterns of rhythm that emphasis grace and posture.
The capital of Spain
is Madrid. The
currency of Spain
is the Euro(EUR)
Flag of Spain
Spain belongs to the
European continent
More countries starting with S
Airports in Spain
Aeroport de Barcelona - el Prat
,
Aeropuerto Internacional de Alicante - El Altet
,
Fuerteventura - Aeropuerto
,
Hierro - Aeropuerto
,
La Palma - Aeropuerto
,
Gran Canaria - Canary Islands
,
Lanzarote - Aeropuerto
,
Tenerife Sur
,
Tenerife - Los Rodeos
,
Melilla
,
Albacete - Los Llanos
,
Almeria - Aeropuerto
,
Asturias - Aviles
,
Cordoba - Aeropuerto
,
Bilbao - Sondica
,
Burgos - Villafria
,
Badajoz - Talavera La Real
,
A Coruña - Alvedro
,
Aeroport de Girona - Costa Brava
,
Granada - Aeropuerto
,
Madrid - Getafe
,
Ibiza - Es Codola
,
Jerez De La Fronteraaeropuerto
,
Murcia - San Javier
,
Leon - Virgen Del Camino
,
Madrid - Barajas
,
Malaga - Aeropuerto
,
Aeroport de Menorca - Maó
,
Morón de la Frontera
,
Palma de Mallorca - Son San Juan
,
Pamplona - Noain
,
Murcia - Alcantarilla
,
Aeroport de Reus
,
Rota
,
Salamanca - Matacan
,
San Sebastián - Fuenterrabía
,
Santiago - Labacolla
,
Valencia - Aeropuerto
,
Valladolid - Villanubla
,
Vitoria
,
Vigo - Peinador
,
Santander - Parayas
,
Sevilla - San Pablo
,
Madrid - Torrejon
,
Madrid - Cuatro Vientos
,
Zaragoza - Aeropuerto
,
Aeroclub Cerdanya
,
Aeropuerto Central Ciudad Real
,
Logroño-Agonchillo
,
La Gomera
,
Flughafen Tenerife South-Reina Sofia
,
Flughafen Teneriffa Nord
, and
Huesca-Pirineos - Airport
Leaders of Spain
Map of Spain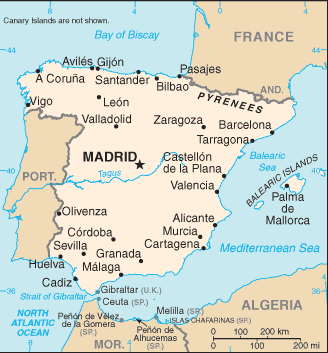 Population
40,448,191
Basque
,
Catalan
,
Galician
,
Occitan
,
Spanish
Car brands from Spain
a.d. Tramontana
,
Abadal
,
Hispano Suiza
,
Pegaso
,
Seat
, and
TZ
Animals native to Spain / which animals live in Spain?
Click here for all
Animals in Spain
Airlines in Spain
Click here for all
Airlines in Spain
Cruise operators from Spain
Pullmantur Cruises
Coordinates (in Latitude & Longitude) of Spain
40 00 N, 4 00 W
Kilometers of coastline
4,964 kilometers
Square kilometers of land
499,542 square kilometers
Square kilometers of water
5,240 square kilometers
Birth rate
9.98 / 1000 population
Death rate
9.81 / 1000 population
Irrigated land
37,800 sq km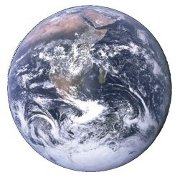 Information about Spain is brought to you by
"List of countries of the world"
, your first stop in discovering all countries of the world.
Besides demographic information, geological information about Spain, also the flag of Spain and a map is displayed. View also countries of the world ordered by:
Privacy policy