Custom Search
Svalbard

Svalbard is an archipelago located in the Arctic Ocean half way between Norway and the North Pole. The largest of the islands is Spitsbergen with the capital and biggest city of Longyearbyen. Svalbard, meaning cold coasts, has a varied of historical activities from whaling, hunting, trapping, to coal mining. Today it draws tourist from around the world to participate in its many activities including but not limited to skiing, hiking, fishing, kayaking, and glacier walking. There are also museums and galleries, buildings and monuments and cultural heritage to visit.
5 Facts You Might Not Know
1
Svalbard is home to the third largest icecap in the world, Austfonna. Austfonna is a glacier that has a front of 200 kilometers or just less than 125 miles. 60 percent of Svalbard is covered by glaciers, with 30 percent barren rock, and the remaining 10 percent is vegetation.
2
Almost 65 percent of Svalbard is protected. It has 15 bird sanctuaries, 6 national parks, 3 nature preserves, and a geotopical protected area. Wild animals are also on the archipelago, including arctic fox, reindeer, polar bears, and even the southern vole, brought over by accident.
3
Svalbard has the two most northerly Lenin statues. Barentsburg is a Russian settlement built in the post World War II Soviet style. It has a school, library, sports center, farm and greenhouse.
4
If you do not like rain or snowfall Svalbard is the place for you. Annual precipitation is between 200 to 300 millimeters. It is classified as an arctic desert. Compared to other places with the same latitude of 74 to 81 degrees North, Svalbard has a relatively mild climate.
5
Germany occupied Svalbard during World War II. After the war, the Soviet Union proposed a joint Norwegian Soviet military defense, which Norway rejected. The Soviet Union also wanted to keep the archipelago out of use by NATO. So they kept a large contingent of civilians on Svalbard.
The capital of Svalbard
is Longyearbyen. The
currency of Svalbard and Jan Mayen
is the Norwegian Krone(NOK)
Svalbard and Jan Mayen belongs to the
European continent
More countries starting with S
Map of Svalbard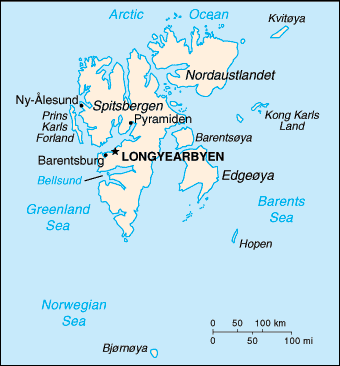 Population
2,214
Languages spoken in Svalbard
Animals native to Svalbard / which animals live in Svalbard?
Click here for all
Animals in Svalbard
Coordinates (in Latitude & Longitude) of Svalbard
78 00 N, 20 00 E
Kilometers of coastline
3,587 kilometers
Square kilometers of land
61,020 square kilometers
Square kilometers of water
0 square kilometers
Birth rate
NA / 1000 population
Death rate
NA / 1000 population
Irrigated land
NA sq km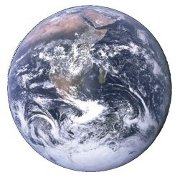 Information about Svalbard is brought to you by
"List of countries of the world"
, your first stop in discovering all countries of the world.
Besides demographic information, geological information about Svalbard, also the flag of Svalbard and a map is displayed. View also countries of the world ordered by:
Privacy policy