The climates and environments of Tajikistan are diverse; this variation of habitats lends itself to biodiversity and thereby a wide range of animals.
The west is home to deserts scattered among areas of temperate climates and subtropical wetlands. In the temperate desert areas lives the Botta's

serotine
, a type of vesper bat. Found in an arid region to the southwest of Tajikistan is the endangered species of wild goat, the

Markhor
; it is a type of goat commonly hunted for their horns. The wetlands make up the northern, western and southern edges of Western Tajikistan. Native to these wetlands is the Bukhara Deer, another endangered species; however, efforts to protect the wetlands have helped to increase the number of these deer.
Moving east you find the Pamir Mountains, an area which ranges from ranges from sparse vegetation and barely any rainfall to polar temperatures. The one animal endemic, or native, to this country is the Bukhara Shrew, sometimes called the
Pamir Shrew
because it resides in the Pamir Mountains. On the cliff-sides, closest to the base, are arid areas of sparse shrubbery. The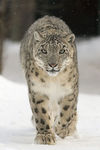 Snow Leopards
inhabit the semi-arid, mountain-side terrain and are on the verge of extinction. These leopards are most often killed for trophy and for their fur. Climb further up the mountains of Tajikistan, past the temperate forests, and you'll find arctic temperatures. Other animals native to the mountainous regions of Tajikistan include the

Brown Bear
, the
Goitered gazelle
, the Marco Polo sheep (or Ovis ammon polii) and the Siberian Ibex. A number of other animals popular Tajikistan; when last surveyed, it was said there existed at least 84 species of mammals in Tajikistan.