Togo, a West African country, has the country of Ghana on its Western border. On the Eastern side is Benin and to the north lies Burkina Faso. It has many animals which are native, some of which may also be endangered. Within its borders, it has the Guinean Moist Forests and the Guinean-Congolian Coast Mangroves. Extending down to the Gulf of Guinea and with a varied landscape, Togo has 169 species of animals and 670 species of birds.
Among the native species are the
African Elephant
,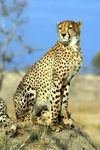 Cheetah
,
African Golden Cat
, Fox's Shrew, Lion, Red-fronted Gazelle, Spotted-necked Otter, West

African Manatee
and the White-thighed Black-and-White Colobus. All of these mammals are considered threatened at present, though not endangered. Endangered animals in Togo are the
Chimpanzee
,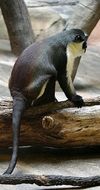 Diana Monkey
, Red-Bellied Monkey and the Wild Dog. The Red Bellied Monkey lives in the trees of the moist tropical forest. It can also be found in the bush or on older farm land. Usually traveling in groups of up to 5 monkeys, it eats fruit, insects, and the leaves of crops. The Wild Dog usually weighs between 37 to 79 lbs. and is known to roam the plains and woodland hunting for prey.
Birds are abundant in Togo and among the wading birds found are flamingos, duck, geese and swans, four species of Ibis, and Storks. Storks are known to use their nest over long periods of time and since they are mute, clatter with their bills. Grebes, Pelicans, Boobies and Gannets are also found in Togo. Sixteen species of herons and egrets live in Togo, including the
Purple Heron
,
Black Heron
, Great Egret,
Little Egret
and more.
Because of the diversity of a hospitable sub-Saharan climate and agricultural landscape, as well as the moist forest regions and gulf, many kinds of animals and birds live in Togo and create a country rich in animal life.