The United States has a wide variety of animals residing here. Ranging from rodents to birds to dogs to buffalo. From east coast to west coast the animals' habitants varies.
Where there is a more tropical climate the animals will differ to those colder climates.
The only man eating animals in the United States are bears. The black or

brown bears
, grizzly bears, and

polar bears
live in the mountainous regions.
In the dog family there are foxes, wolves and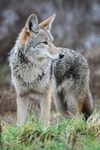 coyotes
. In the cat family there is a

bobcat
, lynx, mountain lion. In the south west there are
jaguars
and
ocelots
. Jackrabbits can be found in Texas and rabbits can be found everywhere through the country. Raccoons and fisher cats live here also.
There are birds of prey such as owls, hawks or eagles that reside here. Pink flamingos live in Florida which is just a beautiful sight to see. Then you have the beach birds consisting of sandpipers and seagulls found by the shore. Singing birds like robins, cardinals, sparrows and warblers brighten you day in the morning chirping a tune.
Reptiles in the US in Florida are crocodiles and alligators. Rattlesnakes and
water moccasins
(both poisonous) are found mainly in the Southwest region. These are dangerous to be near as they may attack you. Lizards can also be found there.
The native animals to the United States are deer, moose, elk and caribou, beavers,
muskrats
, squirrels, prairie dogs, porcupines are marmots. Weasels, fisher cat, skunk, badger and
wolverine
are also native to this country. Other native wildlife includes birds like ducks, geese, herons, egrets, ibises and waterfowl. There are over 60 different species of toads and frogs and over 80 species of salamanders living here. The bull frog, the largest of the frogs resides in the eastern and central part of the US.
The United States has a wide range of critters that inhabit here. From nests in trees to a burrowed hole in the ground to living in the mountains all these animals roam the countryside.