Burkina Faso is home to a rich variety of African wildlife. The country is located in an area where the Saharan desert transitions in to the fertile grasslands of the savannah. This ecological zone is known as the Sahel. The land is mostly a flat savannah plateau with some small forested areas. There are only two seasons, a rainy season and a hot dry season called harmattan.
Many of Africa's most well known and beloved animals call Burkina Faso home. Elephants, lions, baboons, leopards,

aardvarks
, and warthogs are all a common sight. This country is also one of the few places critically endangered species such as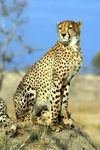 cheetahs
,

Egyptian vultures
, and wild dogs can still be found.
There are a number of rivers and streams that break up the grassland. Crocodiles such as the

Nile crocodile
, dwarf crocodile, and slender-snouted crocodile populate the rivers of Burkina Faso. These animals are considered sacred in some communities. Water also attracts an amazing variety of birds such as the ibis and the threatened black crown crane. Playful spotted-necked otters and clawless otters are native to these rivers as well.
One of the most bizarre species in this country is the

giant pangolin
. It is the only living mammal with scales. The scales are hard and made of keratin. This gives them a reptilian appearance. Though they are not yet considered endangered, poaching and habitat loss have resulted in a steady decline of the native population of pangolins.
To protect their endangered species and rich diversity of wildlife Burkina Faso has established several national parks and wildlife preserves. Their efforts have done much to ensure the future of these unique animals.