Custom Search
Venezuela

Venezuela is a small South American country that borders Colombia, Brazil and Guyana and has a coastline of 1,700 miles along the Caribbean Sea. The former Spanish colony declared independence in 1832 and was later ruled by a series of military dictators that profited from the country's rich oil reserves. Since 1999, Hugo Chavez has ruled Venezuela with his own style of socialism.
5 Facts You Might Not Know
1
Venezuela is one of the most biologically diverse places on the planet. The country is home to the Andes mountains in the west, the Orinoco River Delta in the east, central plains and the Amazon Basin rainforest in the south. Over 25,000 species of orchids thrive within the country, which is also home to nearly 1,500 species of birds and almost 4,000 species of fungi.
2
Venezuelan music is a lively mix of Spanish, indigenous and African styles. Guitars and maracas are used in the traditional music, to which locals love to dance the joropo.
3
The country is home to the world's largest waterfall. Angel Falls were named for an American pilot in 1936 and drop over 3,200 feet from the Rio Churun. The falls are located in Canaima National Park, the largest protected area in the country.
4
Italian explorer Amerigo Vespucci gave Venezuela its name. Upon arriving on the country's shores in 1499, Vespucci saw local indigenous architecture that reminded him of Venice, hence the name Venezuela.
5
Venezuelans use the bolivar for currency. The money was named after Simon Bolivia, the country's liberator and a national hero. Born on 24 July, 1783, Bolivar became one of the greatest generals in all of South America.
The capital of Venezuela
is Caracas. The
currency of Venezuela
is the Bolivar Fuerte(VEF)
Flag of Venezuela
Venezuela belongs to the
South American continent
More countries starting with V
Airports in Venezuela
Oro Negro
,
Mariscal Sucre
,
Maiquetia
,
La Chinita Internacional
,
Calabozo
,
Coro
,
Ciudad Bolívar
,
Campo Nuevo
,
Alberto Carnevalli
,
Acarigua
,
Barinas
,
Barquisimeto
,
Carupano - Gen. Jose
,
Caracas - Oscar Macha
,
Cumana
,
Caracas - La Carlota
,
Guasdualito
,
Guiria
,
Guanare
,
Higuerote
,
Paraguana - Josefa
,
San Juan De Los Morros
,
La Fria
,
La Orchila
,
Margarita - Del Carib
,
Metropolitano Private
,
Maturin
,
Puerto Ayacucho
,
Pto. Cabello
,
Paramillo Private
,
Guayana - Manuel Car
,
Santa Elena De Uairen
,
Sto. Domingo
,
San Felipe
,
San Fernando De Apure
,
San Tome Private
,
Santa Barbara Zulia
,
Tumeremo
,
Valencia
,
El Vigia - Perez Alph
,
Valera
,
Valle De La Pascua
, and
San Antonio Del Tachira
Leaders of Venezuela
List of oil fields in Venezuela
(28)
Map of Venezuela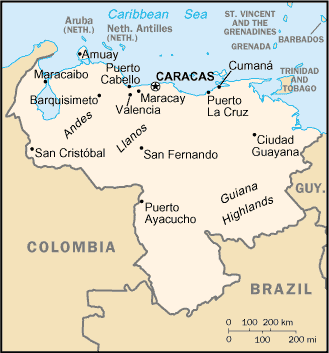 Population
26,023,528
Languages spoken in Venezuela
Spanish
Animals native to Venezuela / which animals live in Venezuela?
Click here for all
Animals in Venezuela
Airlines in Venezuela
Click here for all
Airlines in Venezuela
Coordinates (in Latitude & Longitude) of Venezuela
8 00 N, 66 00 W
Kilometers of coastline
2,800 kilometers
Square kilometers of land
882,050 square kilometers
Square kilometers of water
30,000 square kilometers
Birth rate
21.22 / 1000 population
Death rate
5.08 / 1000 population
Irrigated land
5,750 sq km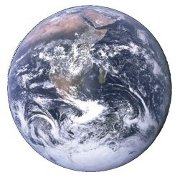 Information about Venezuela is brought to you by
"List of countries of the world"
, your first stop in discovering all countries of the world.
Besides demographic information, geological information about Venezuela, also the flag of Venezuela and a map is displayed. View also countries of the world ordered by:
Privacy policy