Located in the southern part of Africa and bordered on the west by the Atlantic Ocean, Namibia is home to several game preserves and national parks to help protect its endangered species and wildlife. Nambia is home to many diverse species of animals including several endangered species. With five largely differentiating geographic regions such as the Central Plateau, Great Escarpment, Bushveld, Kalahari, and the Coastal desert (one of the oldest deserts in the world); it can be hard to believe that so many different species call Namibia home.
The Great Escarpment, with its rapidly changing environment due to water erosion, is home to many "microhabitats" that allows for many different types of organisms. Many animals seek refuge from the harsher environments within the Escarpments dense woodlands. Here you can find zebra,

gemsbok
, dik dik,

springbok
antelope, wildebeest,

water buffalo
,

ground pangolin
, and several others.
Wild dog, black and white rhino, oribi, and puku are all endangered species you can find throughout the country with the puku probably being the rarest of them all. Only about 100 individuals have been spotted along the Chobe River out of Botswana and the Linyati marshes in Namibia. But outside of Namibia, in many places in Africa, beautiful animals are on the verge of extinction. The Black Trade Market has caused both the Black and White rhino an incredible amount of suffering from poaching with their horns and feet being considered highly prized commodities. The country also has the largest population of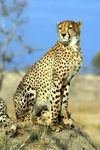 cheetah
, not contained with any of the National Parks. Small mammals, birds, fish, insects, reptiles and amphibians are also in great abundance but their range varies depending on the habitat. Considering Namibia's wide range of climates and ecosystems, many animals have adapted, from the harsh desert to the lush forests.