Austria, officially known as the Republic of Austria, is a land-locked country in central Europe. Due to the presence of the great mountain range known as the Alps, Austria has a largely mountainous terrain. It also has four main regions of mixed, broadleaf, and conifer forests. Thanks to the mountains, hills, lakes, and forests, Austrians enjoy a temperate alpine climate.
A breeding ground for many of the world's most famous artists, architects, musicians, and politicians, Austria is also home to an amazingly diverse number of animals. Austrian wildlife is relative to country's hilly, forested environment. For example, various kinds of deer inhabit the country's hills and woodland. In fact, in terms of native fauna, deer are the most common animals seen in the region. Different varieties of deer live in different regions of the country. The most popular types of deer in Austria are red deer,

fallow deer
, and roe deer.
The mountains are home to
chamois
, a goat-antelope species, and mouflon, a kind of wild sheep. The peaceful migrating ibex, a type of wild goat, also appear in abundance. These animals are known for their rock-climbing abilities and resilience to extreme winters. The
wild boar
, frequently hunted during the winter season, is one of Austria's most notorious animals.
Bird watching is extremely popular in Austria, especially in the national parks and forests. The country is home to colorful European bee-eaters, kingfishers, herons, and Austria's heaviest bird, the

Great Bustard
. Falcons, harrows, and vouchers are common birds of prey, and large populations of wild geese also inhabit the region. Of course, Austria is home to the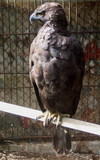 Black Eagle
, the national bird whose image appears on the nation's coat of arms.
The large lizard, grey snake, badgers, foxes, and bears are other notable animals that live in Austria's alpine terrain. And one of the most beautiful animals in all of Austria is the Lipizzaner. This shining white horse appears to come straight out of the pages of a fairy tale. Developed by Austria's House of Habsburg, one of the most important royal houses in Europe, this horse breed is named for its place of origin: Lipica (Lippiza), Italy.