Brunei is the home of many, unique animals; There is an great amount of different kinds of wildlife, everything ranging from

proboscis monkeys
to crocodiles! Three fifths, of Brunei is tropical rainforests the other one fifth is under secondary forest, different types of habitat, is one of the reasons there are so many unique animals in Brunei.
The rainforest of Brunei, produces different vegetation for different animals. In Brunei you will find that there are, proboscis monkeys, leaf monkeys,

pigtail macaques
, gibbons,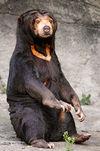 sun bears
, bats and so many more species! This is just a short list of, the wildlife.
You will also find that there are many different reptiles in Brunei. Brunei is home to large reticulated python, the countries swampland and woodlands are filled with different reptiles, and animals, it doesn't end with rainforests. In the swamplands and woodlands you will find, the Bengal monitor, Burmese python, giant soft shell turtles, salt water crocodiles, and water monitors. Again these are just some of the reptiles you will find.
Everything, that is special to the people of Brunei, is at risk with poaching people are killing these beautiful creatures for their own profit! There are also many endangered animals in Brunei, like the crocodile they are poached for their skin, the Asian elephant, they are poached for their horns (Ivory) thankfully the Asian elephants population is believe to be increasing.
There you have it a list of some of the beautiful, species you will find in Brunei, although there are many more animals, birds, and reptiles; now you have a taste of some of the species found in Brunei.