Custom Search
Brunei

The country of Brunei falls in the equatorial climate zone and has warm, humid weather year round. Brunei's culture is largely Muslim, and the customs of the area cultivate mannerisms that are very polite and tolerant, if somewhat formal. When visiting this country, tourists should familiarize themselves with proper etiquette, especially in business dealings, to avoid offending or upsetting locals. Though Brunei possesses a very unique society, visitors can still enjoy the comfort of many English speakers as well as familiar dining options like fast food chains.
5 Facts You Might Not Know
1
Brunei's official name is Negara Brunei Darussalam. This translates to 'Abode of Peace.' The capital of Brunei is Bandar Seri Begawan.
2
Brunei is located in Southeastern Asia on the island of Borneo, bordering the South China Sea. It is divided into two parts which are separated by Malaysia. Brunei shares the island of Borneo with Indonesia as well, though it does not directly border this country.
3
In 1984 Brunei won independence from Britain. It is now ruled by an absolute monarchy. The same family has been part of this monarchy for more than six centuries. In Brunei, nobility is inherited, but the sultan has the power to award a title to a commoner.
4
Brunei's thriving natural gas and petroleum fields are a major source of income for the country. Consequently, its per capita GDP is one of the greatest in Asia and the sultan of Brunei is believed to be one of the richest individuals in the world.
5
The cuisine in Brunei is heavily influenced by Singapore, Malaysia and China. Rice and noodles are staples with stewed vegetables rounding out most dishes. Alcohol has been prohibited in Brunei since 1990. Food and drink should always be handled and passed with the right hand only, as the left hand is considered unclean.
The capital of Brunei
is Bandar Seri Begawan.
Brunei belongs to the
Asian continent
More countries starting with B
Airports in Brunei
Brunei



Leaders of Brunei
List of oil fields in Brunei
(1)
Map of Brunei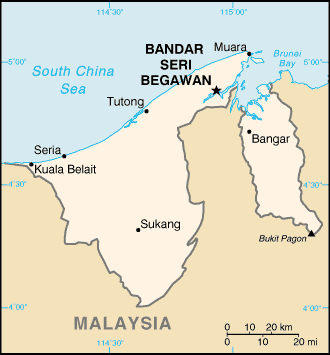 Population
374,577
English
,
Malay
Animals native to Brunei / which animals live in Brunei?
Click here for all
Animals in Brunei
Airlines in Brunei
Click here for all
Airlines in Brunei
Coordinates (in Latitude & Longitude) of Brunei
4 30 N, 114 40 E
Kilometers of coastline
161 kilometers
Square kilometers of land
5,270 square kilometers
Square kilometers of water
500 square kilometers
Birth rate
18.56 / 1000 population
Death rate
3.26 / 1000 population
Irrigated land
10 sq km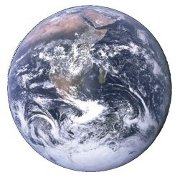 Information about Brunei is brought to you by
"List of countries of the world"
, your first stop in discovering all countries of the world.
Besides demographic information, geological information about Brunei, also the flag of Brunei and a map is displayed. View also countries of the world ordered by:
Privacy policy