Custom Search
French Polynesia

In the South Pacific a collective of islands known as French Polynesia resides. Despite the collective land area being smaller than one-third the size of Connecticut, the country includes six island groups featuring over 130 islands including Tahiti and Bora Bora. Below are five interesting facts about the country of French Polynesia you may or may not know already.
5 Facts You Might Not Know
1
French Polynesians work hard to preserve their history and culture. Visitors have access to several great museums including the Pearl Museum in Tahiti which is the only museum in the world dedicated entirely to pearls.
2
The word 'tattoo' originates from Tahiti. Tattoos have been and still are a very important cultural expression, with the word deriving from the Polynesian good of tattoos, Tohu, who is told in legend of painting all the fish their unique patterns and colors. There are many uniquely skilled tattoo artists in French Polynesia who are known worldwide for their beautiful technique.
3
The Marquesas Islands of French Polynesia are believed to be the first settled by humans in the region, with estimates of populations settling the islands around AD 300. From there human populations spread to the other islands over the next 500 to 600 years, organized by very loose chieftanships.
4
Several famous European explorers have visited French Polynesia, including Ferdinand Magellan who sighted and documented some of the islands in 1521. The well known British naval explorer, James Cook, visited Tahiti in 1768, where it is documented he stopped and observed the transit of Venus.
5
The residents of the French Polynesian islands became citizens of France in 1946 and the islands a French overseas territory. Prior to this they had first been united by the establishment of a French protectorate in 1889. Since then French Polynesia has been granted degrees of internal autonomy until becoming a full French overseas collectivity in 2004.
The capital of French Polynesia
is Papeete. The
currency of French Polynesia
is the CFP Franc(XPF)
Flag of French Polynesia
French Polynesia belongs to the
Oceanian continent
More countries starting with F
Airports in French Polynesia
Tahiti-Faaa
,
Tubuai
,
Bora-Bora
,
Rangiroa - Tuamoto Island
,
Hao
,
Hiva Oa
,
Manihi
, and
Anaa Aiport
Map of French Polynesia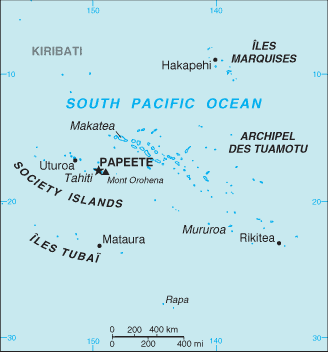 Population
278,963
Languages spoken in French Polynesia
Animals native to French Polynesia / which animals live in French Polynesia?
Click here for all
Animals in French Polynesia
Airlines in French Polynesia
Click here for all
Airlines in French Polynesia
Coordinates (in Latitude & Longitude) of French Polynesia
15 00 S, 140 00 W
Kilometers of coastline
2,525 kilometers
Square kilometers of land
3,660 square kilometers
Square kilometers of water
507 square kilometers
Birth rate
16.41 / 1000 population
Death rate
4.61 / 1000 population
Irrigated land
10 sq km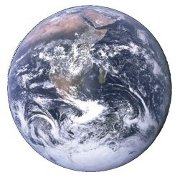 Information about French Polynesia is brought to you by
"List of countries of the world"
, your first stop in discovering all countries of the world.
Besides demographic information, geological information about French Polynesia, also the flag of French Polynesia and a map is displayed. View also countries of the world ordered by:
Privacy policy