Malawi has been described as 'The Warm Heart of Africa'. This beautiful African nation is located where three distinct ecological regions of the continent comes together -- central, southern and eastern Africa -- so the native animal populations of Malawi are representative of all three regions.
Of course, the 'Big Five' famous African animals, lions, leopards, buffaloes, rhinos and elephants, are all found here, which is not surprising due to its location at the crossroads of major habitats. Malawi also boasts nine huge national parks and wildlife reserves to harbor her diverse wildlife.
Other kinds of animals that can be found in Malawi are crocodiles and hippos. In fact, hippopotamuses thrive in such numbers in the lakes and rivers that they have become almost the unofficial symbol of Malawi wildlife. There are antelopes of several varieties, as well as warthogs, zebras and hyenas. The south of the country is home to

bushbucks
,

impalas
, nyalas, kudus and duikers. There are also two rare breeds of

wild cats
, caracels and

servals
. These cats are slightly larger and look very similar to common house cats, but can be very dangerous.
In the north of the country are found jackals, civets and eight different kinds of mongoose. Lions and leopards roam here, as well as the occasional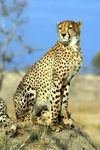 cheetah
, which all share the plain with
African wild dogs
and
spotted hyenas
. There are also 43 different species of bats that call Malawi home.
Another interesting fact is that over 600 varieties if fishes are endemic to Malawi. Endemic means they are found there and nowhere else. Other animals endemic to Malawi include: four species of lizards, four species of amphibians, 15 species of insects and arachnids, and three mammal species that are found in Malawi and nowhere else: the Nyika Burrowing Shrew, Ansell's Epauletted Fruit Bat and Johnston's African Dormouse.