Morocco is a country that is made up of mostly desert and is known for its extremely high heat, particularly in mid-day. The plants and animals that live in Morocco have adapted to these conditions over time and have survived in spite of the intense heat and lack of sufficient water. Morocco is the home to several species of animals that are not found in other parts of the world.
Mammals
Approximately 105 species of animals live in Morocco, and of these, 18 are on the endangered species list. The most typical type of mammal to live in Morocco is the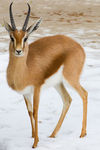 dorcas gazelle
. This type of gazelle is the smallest of its species, and it is recognizable by its extremely long legs and curved horns. Both male and female dorcas gazelles have full sets of horns. To compensate for the lack of fresh water, dorcas gazelles absorb water from the Acacia leaves that make up the majority of their diet. Due to the intensity of the mid-day sun, dorcas gazelles are usually only spotted being active in the early morning and late evening hours.
A type of dog that is unique to Morocco is the Sloughi breed. They are fast dogs that people of that nation use for hunting purposes. Their appearance is close to that of a greyhound.
Birds
There are more than 450 types of birds that have managed to survive the desert heat of Morocco. Pelicans and gulls can be found most often on the coast lines, while partridges, woodpeckers, doves, pigeons and pheasants are more often found in the desert areas. Bird species that are typically only seen in zoos in the United States, such as ostriches, swans and flamingoes, originate from Morocco and must be shipped overseas for anyone outside of Morocco to see them.